Members of the public were targeted with axes and sledge hammers during an attempted armed burglary at a village convenience store in Oxfordshire on Friday.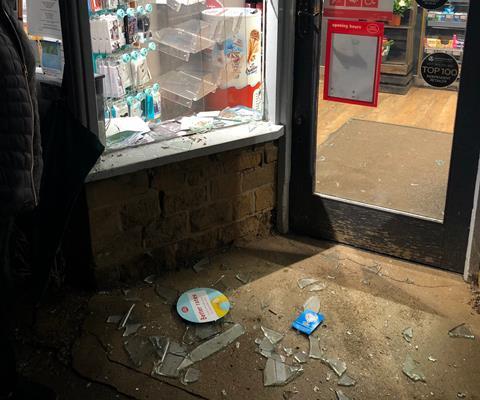 The incident happened at The Village Shop in the village of Hook Norton at around 10:45pm on 19 July. According to store owner Joe Williams, three masked men, armed with axes and sledge hammers, attacked his store in an attempted burglary.
"It was an emotional night on Friday, with a few tears along the way. I have always had in the back of my mind it is not a case of if this happens, but when it happens," he told C-Store. "Whilst onlookers at the local pub watched, they took a swing at a member of the public. Nothing was taken and nobody was injured.
"Thames Valley Police have been good. Their initial response was straight away given the time of day and the suspects being seen by our neighbours. Crime scene investigators were out here on Saturday morning so we were able to open again by lunchtime that day and CID were out on Saturday afternoon taking statements and door to door enquiries.
"We have lost some trade due to it being the annual beer festival here this weekend. It is usually one of the busiest times of the year," Joe added.
The incident followed a number of recent incidents across the UK, including an incident in the West Midlands in which a female convenience store worker was attacked by masked men armed with baseball bats and a robbery at a McColl's store in Derbyshire.
Anyone with information regarding the incident should contact Thames Valley Police on 101 or call independent Crimestoppers charity on 0800 555 111.