National Lottery ticket sales hit a record £3.92bn in the six months to 28 September 2019, up 13.5% on the same period last year.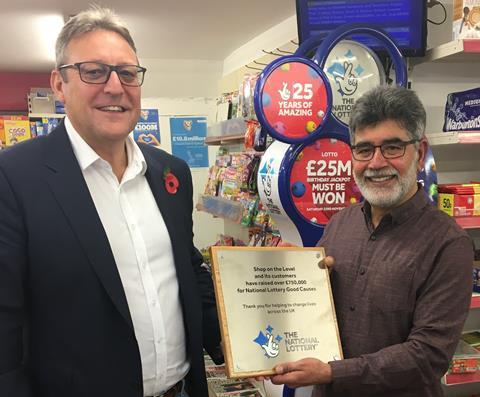 Retail sales are also up by 5% and retailer commission is up by 7.6%, according to Camelot, which published the results 25 years to the day that National Lottery tickets first went on sale.
Prize money awarded was also up by 13.4% with 95% of all revenue returned to winners and society.
The figures follow two years of successive growth, with the work the company carried out following its 2017 strategic review "continuing to deliver for National Lottery players and Good Causes," Camelot said.
Accounting for over 70% of all sales, retail remains the largest National Lottery sales channel. Over the period, Camelot grew in-store sales by £132.2m to £2.75bn.
As a result, National Lottery retailers earned £158.3m in commission over the half year, £11.1m more than in the first half of 2018/19, it said.
Camelot chief executive Nigel Railton thanked its retail partners for their hand in the positive results. "As passionate advocates for The National Lottery, our retail partners have played a crucial role in this success story – and I'd like to thank all of them for their continuing hard work and loyalty in what remain very challenging trading conditions," he said.
"It's 25 years to the day since we started selling tickets for that first Lotto draw, and our record half-year performance clearly shows that The National Lottery is in its best-ever shape.
"Not only are sales up across the board, but we've also delivered over £3.2bn to Good Cause projects, players and retailers in just six months – underlining the incredible difference that, over two decades on, The National Lottery continues to make to the lives of people and communities throughout the UK."
National Lottery funding has now been awarded to more than 565,000 individual projects – an average of 200 lottery grants in every UK postcode.
And with 70% of grants being for £10,000 or less, it is giving small, grassroots community projects a real boost at a time when other sources of funding are being - or face being - cut, Camelot said.
Over the same period, Camelot awarded £2.2bn in prizes to players and created 147 new millionaires.
Sales of draw-based games during the half-year increased to £2.2bn, driven by improvements the company has made to offer a more balanced and appealing range of games.
In particular, sales received a significant boost from the mega-jackpot EuroMillions game, which eventually rolled to a record £170m before being won by a single UK ticket-holder in October.
The National Lottery's newest game, Set For Life, also had a strong start and has so far created nine winners of its top prize of £10,000 a month for 30 years since its launch in March.
In addition, sales of the core millionaire-maker Lotto game have increased following Camelot's introduction of new bigger, fixed cash prizes – including £1m for matching five main numbers and the Bonus Ball – and jackpot 'rolldowns' where all cash prizes are boosted in 'Must Be Won' draws when the jackpot is not won.
The company also grew sales of National Lottery Scratchcards and online Instant Win Games over the period.
"Although there is much work still to do, we've made a fantastic start to our 25th year and, with the exciting plans we have lined up for the next few months – including making the huge, rolling EuroMillions jackpot game even more exciting for players across the 10 participating countries – we're confident that we'll finish the year on a high," Railton added.