National Lottery retailers should expect a "bumper" sales period this Christmas, thanks to two special National Lottery draws over the busy festive season, Camelot claims.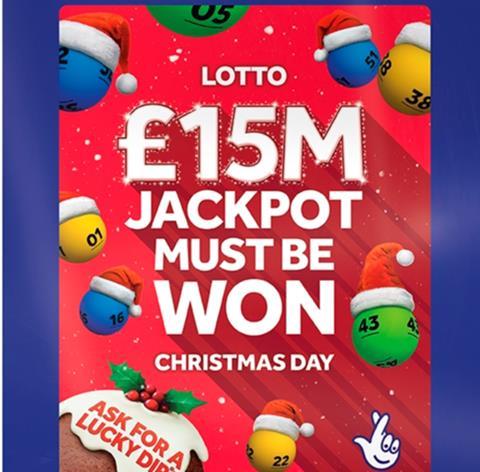 The new draws, which include a Lotto £15m 'Must Be Won' Christmas Day draw on 25 December, will see players "flocking to stores," National Lottery operator Camelot said.
A special EuroMillions 10 UK Millionaires draw on 31 December will also see 10 UK players, as well as any UK jackpot winners, become millionaires.
The two draws, which follow an extensive schedule of 25th Birthday celebrations for the National Lottery, would present "a huge opportunity for retailers to maximise sales," Camelot said.
Camelot urged retailers to make the most of festive themed point-of-sale as footfall to stores increased in the run up to Christmas and New Year celebrations.
Thousands of National Lottery retailers have received special Scratchcard dispenser flashing lights, which Camelot says are already helping to deliver extra sales "and are expected to provide an incredible 33% sales uplift".
A range of festive-themed Scratchcards will also be available, including '£100k Christmas', 'Christmas Advent Calendar 2019', 'Christmas Cash', 'Merry Millions' and 'Winter Wonderlines'.
Camelot retail director Jenny Blogg said: "In the final weeks before Christmas, footfall in store is set to increase as shoppers pick up last-minute items for entertaining and gifts. It's important that your store is ready for this increase in customers across all categories and areas of the shop.
"In December, it's worth reminding customers to buy a ticket at the till, making sure all National Lottery POS you have received is on display to help drive your sales during the festive season.
"Our research shows that The National Lottery helps drive footfall, basket spend and store loyalty – which becomes even more important in the last few weeks before Christmas.
"Up to 65% of players planned to buy a National Lottery product during their December shop last year and 60% of those shoppers claimed off the back of their experience they would return to that store, showing just how important it is to land a great experience at this busy time," she added.