Manchester-based c-store Booth & Howarth was selected as the curtain-raiser for the National Lottery's 25th anniversary celebrations on Wednesday.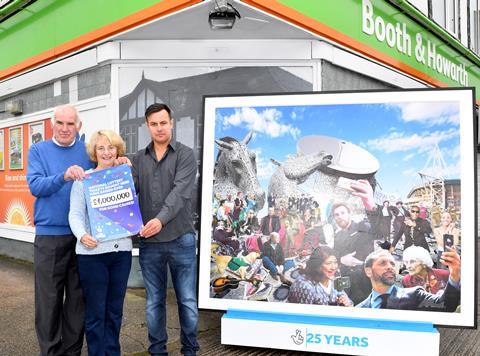 World-renowned artist David Mach unveiled his new artwork 'United By Numbers: The National Lottery at 25' at the Londis store, located on Mauldeth Road, to mark the occasion.
Unveiled to mark the beginning of six weeks of 25th celebrations, the artwork will be exhibited for the day in the window of the store, which is owned by John and Jill Howarth, with Andrew Howarth as the shop director.
Booth & Howarth was one of the very first Camelot retail partners to be selected when The National Lottery began in 1994.
The National Lottery is saying thank you to the shopkeepers and community faces who make it all possible, Camelot said.
Store director Andrew said: "It was exciting to be part of the start of The National Lottery's 25th birthday celebrations. I've never done anything like this before and it was quite nerve-racking, but overall an incredible experience. As one of the very first retailers to be chosen in 1994, I'm grateful to have been given such a great opportunity 25 years later.
"That The National Lottery has raised over £40bn for Good Causes over the last 25 years is excellent, and it's great to see all the incredible projects it's supported."
The artwork features a mix of famous and lesser-known national treasures including people, places, projects and icons that have been part of major projects which have been made possible by The National Lottery. These include Idris Elba, governor for The National Lottery-funded British Film Institute; Rio Ferdinand; Paralympian gold medallist Dame Tanni Grey-Thompson; and projects such as The Kelpies, Jodrell Bank, The Principality Stadium and Giant's Causeway.