National Lottery retailers can expect increased footfall, extra commission and increased sales over the August bank holiday weekend thanks to the Lotto Double Prize draw and a free cinema pass with every Lotto ticket purchased, according to Camelot.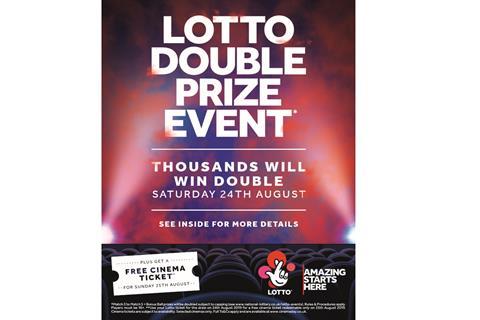 The Lotto Double Prize draw will see all fixed-cash prizes – which is every cash prize apart from the Jackpot – double in value for the first time ever in the special draw on 24 August.
This means that Match 3 winners will pocket £60 (up from £30), Match 4 winners will win £280 instead of £140, matching five main numbers will net players £3,500 (up from £1,750) and any Match 5+Bonus winners will double their £1m prize, to £2m.
Tickets for the special draw can also be used as entry into cinemas participating in the second annual National Lottery Cinema Day (25 August), which has expanded to over 250 cinemas and includes a new partnership with Odeon.
Camelot retail director, Jenny Blogg, said: "With double prizes on offer in Saturday's special draw, retailers have the perfect opportunity to maximise sales – and there are a few things they can do to ensure they make the most of the weekend.
"Get chatting to customers and let them know about the increased prizes on offer in Saturday's draw, but also remind them that their Lotto ticket doubles as a free cinema ticket on 25 August.
"This special draw will contribute to the, on average, £30m raised for Good Cause projects each and every week – including the massive contribution to UK films and film culture that has been made by National Lottery players.
"This is something that wouldn't be possible without the ongoing support of our retail partners."
More than 500,000 free cinema passes are available through the event on a first come, first served basis, with POS for the draw available now.