As a cash & carry accountant, Venu Mittapally was used to dealing with large sums of money. Now as a Lifestyle Extra retailer, he's spent £55,000 on a store refit in the Welsh town of Llanelli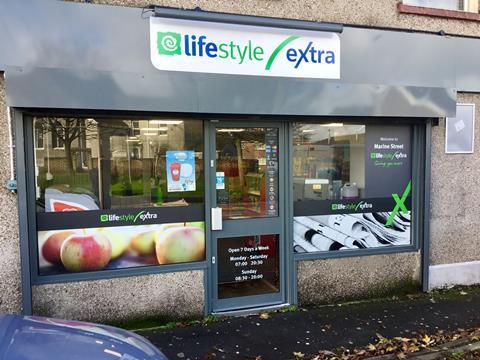 Sometimes it's the simple things that can make a big difference. When customers in Llanelli, South Wales, walk into Venu Mittapally's Lifestyle Extra store, they are not only treated to a bright store layout with modern fittings, but they are also given a warm welcome by Venu and his staff.

"It's so nice to see a happy, smiley face in the morning," one shopper says as they make their daily trip to the store for a newspaper, bread and pint of milk.

Venu has built a great reputation with his customers and the local community since he took on the 1,100sq ft store in January, but his move into c-store retailing very nearly came to an abrupt end soon after it began. "I used to be an accountant for a cash & carry in London," Venu recalls. "When it closed I was thinking about opening my own business. I decided to go into partnership with one of my friends in August 2011, to open a store in Abercynon.

"It didn't go well, though. After a couple of months he started to run the store with his wife and said there was nothing for me there. It was a bad experience, but I've used it to get to where I am now."

Unperturbed, his next step was to take on a tiny unaffiliated shop in Merthr Tydfil, about an hour away from his Lifestyle store. "It's only 390sq ft," Venu reveals. "It was really rundown and doing about £2,000 a month, but now it does about £7,000."
Store Facts
Lifestyle Extra, Llanelli
Size: 1,100sq ft
Staff: 2 part-time
Average basket spend: £6.50
Opening hours: 7.30am-9pm Monday to Saturday, 8.30am-9pm Sunday
Services: National Lottery, ATM, PayPoint, coffee machine, slush station
Venu certainly needed all his retail experience for the store in Llanelli, though. "This shop is my first proper store, and first time working with a symbol group," he says. "There was a lot to learn, because I had no idea about when stock needs to come in and where to put everything."
One of Venu's first moves was to invest in a full store refit, which was completed in May. As a result, turnover has increased to about £14,000 a week, and the overall level of weekly sales has gone up by £4,000 in six months, and footfall has increased.

"We've changed everything," he explains. "We now have five metres of chilled alcohol and wine, two metres of soft drinks and we have also doubled the size of the pet food and frozen areas."

He adds: "Crisps and confectionery are also big areas. We have between 70 and 80 lines, and the big £1 bags are selling extremely fast."

The store was being run as a Spar when Venu bought it from the previous owners, and was just what Venu was searching for. "They were looking for a retirement sale and wanted someone to take over the store quickly," Venu adds. "I really liked the area, and the people, so it wasn't a difficult choice. I now live in the flat above the store, with my wife and two kids, and we can keep an eye on everything really easily."

When deciding which fascia to open under, Venu considered three options: Premier, Lifestyle and Best-one. However, his decision was made easier by the quick response from the Lifestyle team, he says. "The people at Lifestyle managed everything from beginning to end, and helped me get the stock in, refurbish the shop and answered any requests I had."

The changes to the store aren't complete just yet, though, as Venu is about to open a new £6,000 store kitchen so he can start selling hot food. He says: "I really wanted to do hot snacks and fresh food ever since I opened the store. Hot food and food to go are always popular and it would be great to sell cheap meals to families in the area."

The new facilities are on course to be ready in time for the Christmas rush. "The hot food should help sales this winter and keep our footfall near to our average of 400 per day," he says.

At this time of year 90% of Venu's customers come from locals living in the area, but in summer trade changes dramatically, with lots of tourists travelling past his door to get to nearby beaches. "Our store is on one of the main routes down to the sea and it is the only area where there is free parking, right outside the shop," he says.

"Local people also rent out their houses as holiday homes for European tourists who stay for a week or a couple of days, so we benefit from having more customers."

Venu also welcomes builders popping in for lunch or after work, and the store is just a few doors away from a busy fish and chip shop, which helps drive people in.

Venu says: "The busiest time for me is between 5pm and 7pm. We are quite near the station and people like to have a local shop that they can easily get to," he points out. "There are a few Premiers and a Spar in the town, but people don't want to travel into the centre to pick up some milk."

Weekend trade has also boosted Venu's business. Basket spend on Saturday and Sunday can be as high as £9, with customers coming in to pick up last-minute dinner items and alcohol.

Just a few miles from Venu's store are two large Tesco and Morrisons supermarkets and a Lidl store even closer. However, Venu isn't worried by the competition. "They cater to different markets," he notes. "My customers like to come in everyday. They don't want to be driving to and parking in big supermarkets."

Venu also plays to his stengths of good customer relations, local produce and keen promotions to keep shoppers local and loyal.

"A lot of people around the shop are elderly and they send their carers out to do their shopping for them," Venu explains. "They come in with a list and we help them find what they need. Customers like it, too, because we offer Welsh produce such as sandwiches and cakes made here in Llanelli.

"We always try to keep customers happy with personalised service, so if people want a certain product then they can tell us and we will let them know when it comes in."

Venu is determined that shoppers keep coming back, and believes regular promotions are one way to achieve that, with stock supplied by Blakemore's in Swansea. "When we took over, we introduced as many promotions as possible," Venu recalls. "We ripped everything out apart from one fridge and got loads of pricemarked products out on shelves. We run promotions every three weeks on about 60 lines, and we see people coming in just for them."

A free cash machine is another lure. Venu made the cash machine free, and since removing the £1.95 charge more than 1,100 transactions are made every month.

Trade looks like it can only keep on growing, too, with a new school being built just a few doors away to open in March. More than 480 pupils from a local primary and secondary school will be moved to the new site, which includes a swimming pool and leisure facilities.

"The new school is going to change the shop completely," Venu says, "because we are going to have nearly 500 parents coming past the shop with their kids every day.

"With free parking outside and no charge for the cash machine, I hope that we can attract them in. The school bus will also drop children off right outside so they will be able to come in before school opens."

Venu is also looking to continue to add new features to his store, in order to keep shoppers interested and increase his already loyal customer base.

"We still have the Christmas trade to come and if the interest in our hot food offering takes off then who knows what else we might be able to add in the future," he says.

One element that won't change, however, is Venu's friendly nature as that's certainly here to stay.