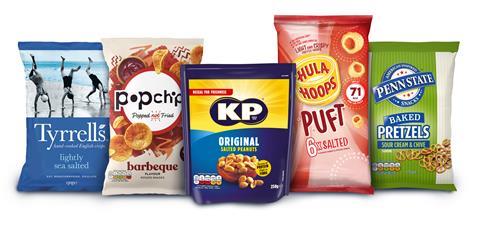 Snacking is one of the 15 categories impacted by the High Fat Salt & Sugar (HFSS) regulations due to come into force on 1 October. A key category for independent retailers, there are big changes afoot for crisps, snacks and nuts, but are all of them bad?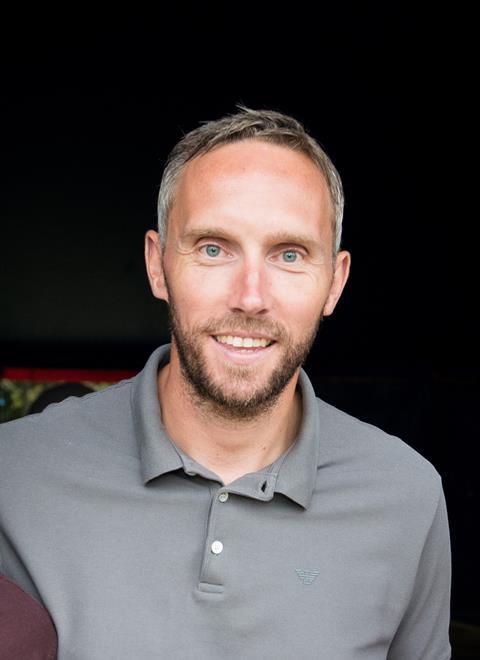 As retailers and manufacturers prepare for HFSS, we spoke to KP Snacks trading director Matt Collins about the legislation, how the business is helping stores adapt and what the opportunity might be.
When asked how much of an impact will HFSS have on independent retailers, Collins outlined what store owners need to know ahead of the legislation's implementation. "I think the primary goal is going to be for everyone to be educated and understand how it's going to impact them," he explains. "Then it's about 'what is the potential risk to sales' but we actually don't see it as a risk situation but rather what's the opportunity?
"There's a potential risk to sales but then equally, there's an opportunity to do the right thing -help create more healthier lifestyles, more healthier choices. I think for a non-affiliated store, clearly there will be more freedom."
The more important question for Collins and KP Snacks is how retailers can embrace the legislation by doing the right thing, and working towards what the Department of Health and Social Care is trying to achieve but also increase their basket spend.
With the impact likely to hit larger stores more than independent retailers, he believes this will lead to customers embracing the convenience channel in search of the volume offers.
"In a big retail multiple store, that big volume bulk purchase is not going to be there if the legislation achieves its goals. So, hopefully an independent retailer will be able to maximise the midweek top up shop in terms of some of the impulse categories that are impacted by the legislation. So we see it as an opportunity. but how do they leverage it? That's by truly embracing the legislation, by doing the right thing, and by maximising the spend in store."
Meal deal opportunity
Collins believes that a strong meal deal offering could be key to a retailer's successful navigation of the HFSS legislation. "If you look at some of the leading convenience retailers such as Tesco Express, Sainsbury's Local or Co Op, the meal deal participation and redemption is really high. So I think a challenge is how do we get more meal deal execution in independent convenience retail. There's a sizeable prize, both in terms of footfall because you're going to get more people coming in on a daily basis and the bigger basket. You can create effectively a multi buy through the different components of meal deal."
Supporting the industry
He explains that from a manufacturer point of view, KP Snacks can support the industry in several ways. "For us as a business, we've got a big programme that we've been working on for the last couple of years which is part of our wider Taste for Good strategy. In terms of trying to do the right thing for the consumers, for customers, for our colleagues and part of that is how do we reformulate some of our big selling big brand products and also how do we innovate?
"If we take KP nuts as an example - nuts are exempt for their product credentials in terms of high in fibre, high in protein, and we've bought out lots of format innovation in nuts, which you will be seeing in shops. We've bought out Flavour Kravers so it's about how do we also innovate within that nuts space to create the right thing. And then ultimately, there will also be part of the portfolio that we don't reformulate as there are parts of the portfolio where it's not the right thing to do."
From a retailer support perspective, Collins says KP Snacks have been working with retailers on HFSS and other topics for some time. "We have a forum with retail ambassadors, where we work with these guys to get an understanding about what they are looking for.
"We've got to help educate, inform and give people solutions so that they can still sell impulse categories, so they can work within the guidelines, work within the legislation, but also see how they can leverage an opportunity from it. For us, that's about how we communicate to retailers.
"To help with this, we've also refreshed and updated all of our merchandising guidelines and product lists. So we'll have clear definition and hierarchy of products that are compliant or non-compliant."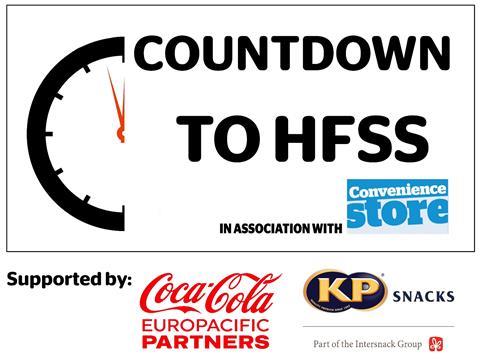 Collins says that the regardless of the challenges of the legislation for retailers, the entire supply chain is focused on doing the right thing. "As a responsible manufacturer, we want to do the right thing. And for us this is about not trying to navigate around any legislation, not trying to find any sorts of caveats or loopholes within it. This is about embracing the legislation and doing the right thing. I think any store should ask if they can help improve some of these challenges we have as a nation or as a world and question how we can tackle these things together? So whether a store is technically in scope, or out of scope, anything that can help create healthier lifestyles, or provide nudges in the right direction is only going to be the right thing to do."