Following its UK launch last year, Unilever is extending its Breyers ice cream range with a new dairy free variant.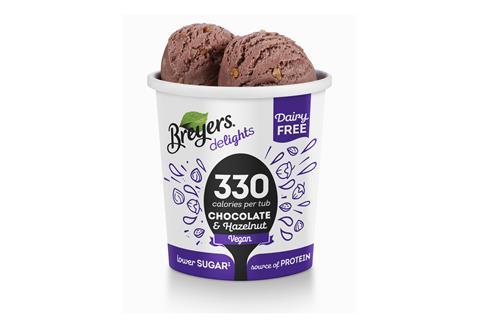 Available from this month, Breyers Dairy Free Chocolate & Hazelnut is made with hazelnut pieces and contains 330 calories per 500ml tub (rrp £4.99).
The launch of the vegan sku will be supported by a media investment of more than £3m, including TV, social media and video on demand.
Noel Clarke, vice president for refreshements at Unilever UK, said: "We launched Breyers to rewrite the rules and create an ice cream that's big on taste but low in calories. The lower-calorie segment is growing fast and Breyers has been a key factor in the category's success – it's one of Unilever's most successful brand launches in ice cream in the last five years.
"To take it to the next level, we're introducing a new vegan-friendly flavour to open up the brand to even more consumers who enjoy a dairy-free diet."
In addition to the new dairy-free option, Unilever is also introducing Breyers Mono Portions. Available in the brand's most popular flavours: Salted Caramel Cake and Cookies & Cream, each product comes in a new 100ml on-the-go format and contains fewer than 80 calories (rrp £1.60).