Unilever is combining two of the nation's most popular spreads into one product with the launch of Marmite Peanut Butter.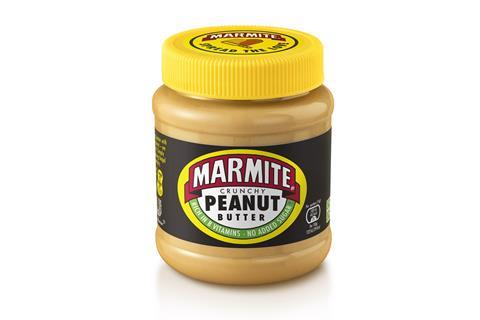 With sales of peanut butter increasing year-on-year [Kantar Worldpanel, January 2018], the new spread is designed to bring incremental sales to the category.
In testing, 60% of consumers surveyed stated that they would buy Marmite Peanut Butter in addition to original Marmite [Join the Dots research, At home with Unilever, Marmite peanut butter, 23.02.19].
A PR and social media campaign will support the launch which, like the rest of the Marmite range, is rich in B vitamins, suitable for vegetarians and has no added sugar or palm oil.
Camilla Williamson, brand manager for Marmite & Bovril at Unilever UK & Ireland, said: "Marmite fans love talking about the brand and sharing their favourite recipe creations on social media. So when we saw a huge number of them were mixing Marmite with peanut butter, it got us thinking about how we could make life a whole lot easier for them and give them something to go nutty about!"
"With the total spreads category in growth, it's the perfect time to unleash this mind-blowing new combo to Marmite fans and really give them something to talk about. Whether they love it or hate it, we know the British public will be desperate to try it - new Marmite Peanut Butter will be the must-have item in everyone's kitchen cupboard. Kantar data, total breakfast spreads, value and unit sales, MAT 52 w/e 20.05.18"
The new combination will be sold in 250g Marmite branded jars with a yellow lid and recognisable brand colours (rrp £2.50 each).