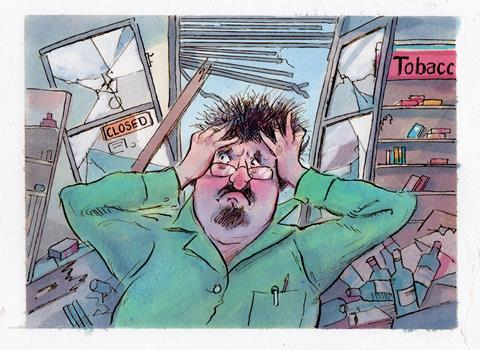 Last October thieves broke into Thiabarajah ('Jey') Jeyaseelan's Key Stores, which trades on a busy road in Hull. The family lived above the store at the time.
The crooks stole cigarettes, took one of his two tills and bashed up the front door and shutters. The cost to repair the losses/damage was £1,500 for the till, £2,280 for the door, £532.80 for the shutters and £421.20 for ADT's alarm certificate for his insurance company, The Retail Mutual. The cigarettes were worth between £3-£4k. It was his first break-in in 14 years.
Jey rang me in mid-December when Retail Mutual turned down his claim. He said that his ADT alarm – used as a deterrent – had not been switched on. However, the theft took only one minute and 40 seconds as verified by CCTV footage and the National Federation of Retail Newsagents told him it would have still happened even if the alarm had been switched on, because it took under two minutes. In fact, Mutual's loss adjuster told him the same thing. And so did the police.
He was told he could appeal, but didn't know how to so I wrote to Retail Mutual with all the above information and they told me they would take it up with Jey directly.
So he appealed, suggesting that they were hiding behind a technicality, and we waited. Waited until mid-February when he got a letter saying that the appeal, which had been sent to the NFRN Mutual board, was rejected.
It's another case of rules is rules. His only hope now is to appeal to the Financial Ombudsman.