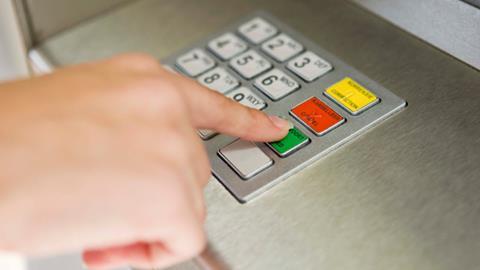 A retailer requesting anonymity sent me an email. She said: "I am writing to you to find out if the behaviour of our ATM provider is fair. I had a contract for a free-to-use cash machine (new business and location) and had just started earning a small income (after three years).
"Suddenly they removed the free-to-use provision and made it chargeable. To add insult to injury they installed a free-to-use machine in a another convenience store 300 meters away. My customers were very unhappy so I arranged a meeting with them [NoteMachine] and signed a contract for no income, as the transaction count was achievable so as to avoid charges as we are a very popular store and have almost 1,000 customers a day."
Then, she adds, Covid struck and cash usage plummeted.
"It was no surprise that NoteMachine started invoicing us for loss of income (over £120 a month).
They have stopped giving us the transaction volume and this makes me suspicious. Also they manipulated my footfall by installing a free-to-use machine so nearby."
I asked NoteMachine to comment and while they said they couldn't be specific in view of the anonymity, they did send me a long report on the reasons behind the changes to their business.
In the first instance they pointed the finger squarely at LINK for reducing the interchange fee by over 20 per cent.
A spokeswoman added: "This meant that a large proportion of our free-to-use estate was no longer commercially viable. In October 2019, we were in the position whereby we had to move circa 2,500 ATMs, which were free-to-use to pay-to-use.
"NoteMachine is aware of the importance of free-to-use cash machines and therefore developed a retail subsidy contract. This is where our customer pays towards the service and maintenance of the machine should the transactions for the machine be lower than 3,500 per calendar month. Should the machine achieve over 3,501 transactions the customer will not pay anything but they will start to receive commission. Unfortunately with the natural decline in the use of cash and the Covid outbreak cash withdrawals have declined by 65% across the UK, with some machines doing far less or nothing at all."
And she points to another problem, the "media storm around cash being dirty and helping to spread Covid. This resulted in large retailers and small business refusing to accept cash as a payment method".
She adds that cash distributed by ATMs is safer than the card terminal at the tills because cash dispensed from a fully managed NoteMachine has not been touched for over 72 hours.
"The government's decision at the start of April to increase the contactless payments from £30 to £45 is also pushing the UK towards a cashless society. This will have a detrimental impact on the vulnerable, elderly and indeed most people who use cash to budget in these challenging times."
She included a copy of a (very long) letter NoteMachine has sent to the CEO of LINK calling him to immediate action.
"In order to support the economy, NoteMachine are prepared to move pay-to-use back to free-to-use – we calculate that this will fund an additional £3.5 billion per annum into the local economies, through increased local 'free cash withdrawals'."