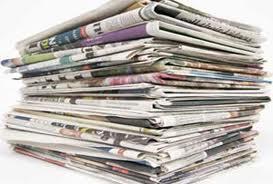 A trio of retailers have been in touch over Smiths News.
Sarah Carter emailed from West Row Village Store in Bury St Edmunds: "Well Smiths News have done it again. The modern day 'Dick Turpin' although he wore a mask, Smiths just hide behind a telephone system and App, with very little chance of getting your money back for their mistakes."
She first emailed her issue to Smiths on 9th September, after numerous phone calls.
"This is a copy of the email via SNapp that I sent them. Is it really that difficult to sort out?
Fed up now! Please can you now credit us for the 10 x D.Mirror Tues 1 Sept.
You have billed us for a total of 46; credited us for 23; saying we have sold 18! Look at our sales figures. We never sell 18 of this paper, see all the information you need to sort this out below including 4 reference numbers!" (I took the liberty of removing the very many exclamation marks for the sake of Convenience Store's house style.)
There followed all the referred to reference numbers and itemised shortcomings, returns, etc.
And she finishes: "So, in total, you have: billed us for 46. We took delivery of 15 (FIFTEEN). We sold 8 (EIGHT). Credited us 23. Outstanding 10. It's really not that difficult, to see your mistakes and credit us what is owed. Eight days to sort this issue is unacceptable. Looking forward to seeing the credit and explanation."
I expect that anyone reading the above would have picked up the utter frustration of Sarah's email.
She concludes: "This is one of numerous issues we have. I have managed to sort out most of them and we have written off 4x Racing Posts, but they really need to be held to account. They must make a fortune out of larger retailers and supermarkets, who don't continuously check their paperwork."
I referred her to Linda Windsor who took her through the official complaints process on behalf of the Press Distribution Forum. Linda reported back with a response from Smiths. They said: "I have just spoken to Mrs Carter and apologised for the delay in correcting the credits. Mrs Carter has received today's credit sheet and was already aware that the net sale has been corrected to agree with the copies sold and returned and is happy for the complaint to be closed."
Next up was Pete Palmer on the phone from Palmer's Papers in Wiltshire. He says he has had a month of problems with Smiths. He was expecting, (although not really) a call back from Smiths on the day he rang. He leaves voicemails but gets no reply from the call centre in India. He says they are recharging claims. He sent two bundles back to the Southampton depot and only got credit for one. He also has had problems with the partwork Peter Rabbit. And he says they owe him £50-70 in credits outstanding for a month.
Once again it was over to Linda who is currently chasing it up.
And earlier she got a result for Shushil Patel who wrote from his Nisa store in Orpington,
"Just something to look into is a problem I've noticed with Smiths News, Croydon house. When papers are short the process is that you ring up to make a claim but what Smith News are doing is then giving you a credit for those short papers. And then charging you back these missing papers under the wording 'claims recharge' for which a different driver should then come out again and deliver them later but they never do because all the drivers have 'gone home'."
Shushil got his credit.