Retailers struggling to get PayPoint commission clarity consider a boycott.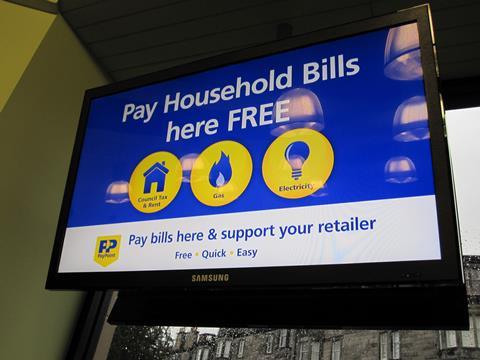 "Please unlock a mystery," wrote Subhash and Rama Varambhia from their Leicester-based Snutch News. "Recently we have noticed a trend from the neighbours including One Stop that they are refusing to accept utility/council tax bills! All with Paypoint. Why? Are they boycotting? If so good idea.
"We will join. We used to get 5p flat commission. Tried to talk to PayPoint to find out how much we receive now. Nobody was able to tell us."
Rama says: "The call centre said try Lloyds." But as Lloyds pointed out it was nothing to do with them.
What has miffed the couple is that people were coming to them just to pay their bills having done their other shopping elsewhere, making the commission – or lack of – somewhat of an issue.
July 6 update
I put all this to PayPoint and a spokesperson responded: "PayPoint was contacted by a retailer who was concerned that two local stores were refusing PayPoint customers. We were able to explain that one local shop was no longer a PayPoint retailer and the other is still taking payments. We are following-up with the retailer again to see if we can provide any further assistance."
I sent this to Rama and she replied that they were still none the wiser as to commission. She'd had a call from customer services. He said he was ringing regarding commission. She asked what the rate was.
"He said it is very difficult to work this out, difficult to answer the question but I can look it up on my My PayPoint, I said I have tried, but I could not find out how it is calculated."
July 27 update - resolved
The Varambhias' discussion over whether to boycott PayPoint or not (largely based on not being able to find out what the commission was on various services) has had a very satisfactory result.
Lewis Alcraft, chief operating officer of PayPoint, wrote to Subhash and his wife Rama to say: "After reading about your recent experience in Convenience Store's 'Dear Jac' column, I was disappointed to hear of the difficulties you were experiencing, so wanted to write to you personally to help resolve the matter."
He then set out the various rates of commission, for example, prepay energy, contactless transport smart cards and prepay TV licence payments: 0.5% capped at 7p; mobile evouchers & top-ups unless stated otherwise 2% uncapped; parking 2%, uncapped; gift cards 5%; and Collect + 25p. All told he listed commission rates for 17 different transaction types.
And, best of all, he added: "It should have been much more straightforward for you to access this information so we will learn from this experience and take steps to ensure that retailers with similar requests do not experience similar difficulties.
Got a pressing issue that's hurting your business, call Jac on 020 8502 9775 or email: jac@roper-biz.co.uk.