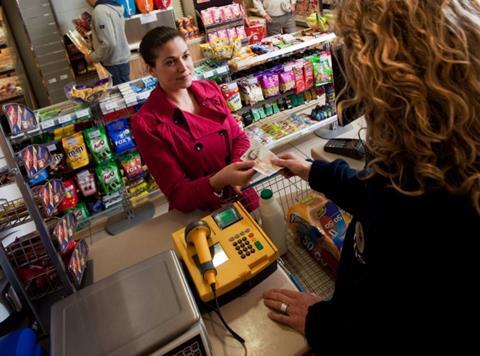 Retailer Guljinder Hayer of Hayers Convenience in Weston-super-Mare, rang the helpline expressing disappointment in the commission he receives from Payzone, saying that he believes he speaks for all retailers who offer bill payment services. He says: "Give us an account number or a barcode so you can pay what's due to us through a bank. It is something simple that would resolve a big problem. It costs us to pay into our account. Every retailer is in the same boat."
He did suggest that he put a service charge on transactions but was told that this would be illegal. He asks: "Who provides a service for nothing? So I said 'it's illegal for me to charge but it's okay for you to charge?'"
He adds that he fully appreciates that the service provider absorbing the bank charges would mean it would be more difficult for them to do deals with companies but equally he does not believe that retailers should bear the brunt of the cost of offering such services.
As he was speaking for all retailers offering bill payment services I wrote to both Payzone and PayPoint for a response since, over the years, this helpline has received countless complaints about the commission offered by both.
A Payzone spokesperson said: "We're regularly in contact with our retailers and it's true that the cost of banking their cash has been an issue that they have raised with us. We've taken on board that feedback and were delighted to recently announce a new partnership with Cashplus. Open to both existing and new retailers, Payzone retailers can apply for a business account that has no account fees for two years and a 0.3% deposit fee. This compares to a standard industry rate of around 0.7%. We fully recognise that this is a challenging time for retailers, and we are continually looking for ways that we can support them and their business further."
They also sent a website link that provides further information.

PayPoint also sent a response from Ben Ford, retail services director. He said: "We are committed to improving the service we provide our convenience retail partners by engaging with them more frequently, rebuilding relationships where required and strengthening our proposition with better value products.
"As part of this, we've introduced new higher commission services that retailers can earn more on, including the recent launch of the Love2Shop e-gift cards, which has 2% uncapped commission. In addition, our new partnerships with the Snappy Shopper home delivery service and the MyStore+ rewards app add even more value to our customers' bottom lines, while retailers with ATMs or PayPoint card payment services can take advantage of our net settlement and Simply Settlement products to reduce or even remove banking charges.
"Convenience stores are at the heart of our business, and we are continuing to work with trade associations and other bodies across the industry to further explore ways of reducing costs for them. In the meantime, we urge any retailers who are unsure about how to get the best out of their PayPoint service to get in touch with our customer experience team on 0330 400 0000."
PayPoint also attached an open letter from CEO Nick Wiles that was sent to retailers last month which set out more context on how PP fully intends to work with retailers to strengthen its service, provide an improved experience and offer products that will benefit retailers' businesses.
This too mentioned commission and banking charges.