The Co-op grew its food revenues by 3% and total revenues by 7% to £10.9bn in the year to 4 January, 2020.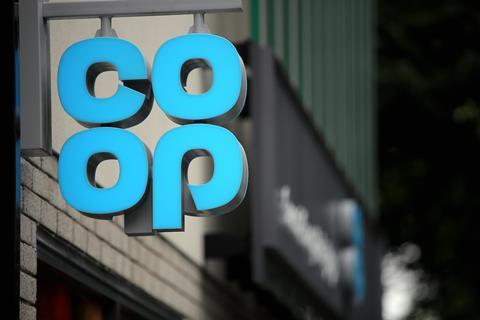 Food revenues account for £7.5bn of the total, and includes full-year contribution for Nisa for the first time since it was acquired in May 2018. Like-for-like food sales grew by 1.9%, with wholesale like-for-like revenues via Nisa up by 1.1% to £1.4bn.
Group underlying profit before tax, excluding IFRS 16 impact, was up 50% to £50m (2018: £33m), driven by food's strong performance - underlying PBT with IFRS16 £31m (2018: £33m). Food delivered underlying operational profit of £283m (£235m on a like for like basis excluding IFRS 16, against £204m in 2018). Profit before tax for 2018 has been restated, reduced by £10m, following the identification of "some historical accounting errors" within Nisa.
The food business invested £342m in new outlets, refitted stores and the supply chain during the year, manifested by opening 79 new stores, refitting 152 stores and extending 10. Nisa attracted 94 new partners to the business and the acquisition was "successfully delivering against strategy" with sales of £1.4bn (£1bn for eight months).
The Co-op also embarked on a successful trial of home delivery, and announced that delivery options will be expanded with online same-day services made available across almost 100 towns and cities served by 650 Co-op stores, through delivery partners including Deliveroo.
The group said that additional costs associated with coronavirus are expected to be in excess of £200m, which will in part be offset by increased food sales and business rates relief. A total of 56,000 front line colleagues have been rewarded with £150 bonus and an extra day's holiday, all worth more than £13m, and the Co-op has created temporary jobs for more than 7,000 people out of work as normal workplaces closed.
The membership reward scheme saw £76m returned: £59m to members directly, and £17m to 4,400 local causes chosen by members and colleagues.
Steve Murrells, chief executive of the Co-op, said:
"The Co-op made further financial progress through 2019, showing that co-operation is working. While we didn't know it at the time, that performance set us up well to withstand the impact of the COVID-19 crisis and to enable us to support the communities we operate in.
"No part of our business has been unaffected by the outbreak of the virus and we have played a critical role in communities throughout the UK. Our Food business has helped to feed the nation and our Funeral colleagues have been there for families at their time of greatest need. All of this work will continue and I could not be more proud of our people who have delivered - day in, day out.
"Co-operation is something that is central not just to our business model, but to everything that we do and we are committed to continue to deliver against our vision of Co-operating for a Fairer World. Against the backdrop of COVID-19 we will review the strategy we had embedded across our businesses, aligning commercial and community objectives. Our responsibility as a co-op is to ensure that through our businesses, our wider influence is used to make the communities in which we operate feel stronger and more connected. That drives the business decisions we make – not profit alone and not shareholder value. The importance of that has never been so stark and we will continue to play our part for as long as we need to."