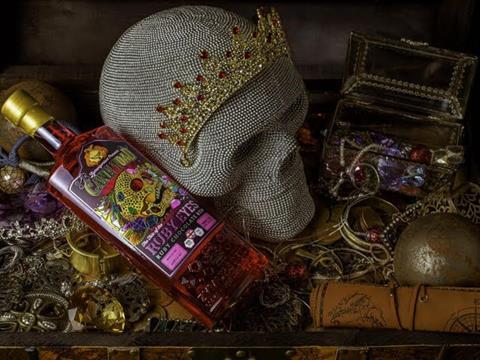 Zymurgorium Group is further developing its offering with the launch of a new range of rums.
As with all Zymurgorium Group products, the Cane Toad Rum range is built around an original story. The brand is rooted in the Origiverse and the adventures of characters including Admiral Winky and Kane The Cane Toad. The imaginary world has an epic tale to tell, created by Zymurgorium founder, and lead creative mind, Aaron Darke.
The Super Massive Black Spiced Rum has a Caribbean molasses profile, drawing from premium blends from across the Caribbean including distilleries close to the Blue Mountains and Montego Bay. An element of the blend has a direct connection to the City of Salford where the distillery is based through Simon, Baronet of Salford who was exiled for highway robbery whilst serving as a Naval officer in 1730.
Khanage Wars Indian Spiced Rum is a mix of Caribbean rum balanced with delicate Mauritius rum, sourced from the vivacious Indian Ocean island, bringing notes of tea and spices to the blend.
The third in the range is Ruby Eyes Chocolate Rum which is the first spirit made using pink Ruby Chocolate. It's a premium Rum blended with this newly discovered spice to give textures of silk, deep chocolate and ripe berries.
Aaron Darke said; "It's no secret that we love a story here at Zymurgorium and that of the Cane Toad Rums and the Origiverse is our most epic yet. We wanted to create a really high quality product to rival any spiced rum on the market, but with a very unique story behind it."