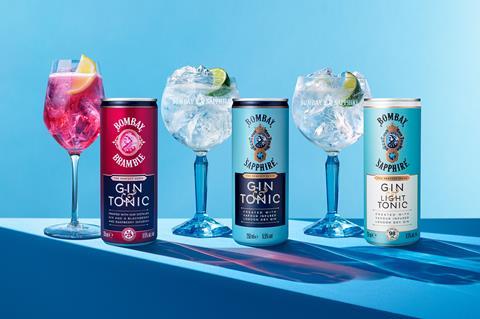 Bacardi has expanded its Bombay Sapphire RTD range with Bombay Bramble & Tonic and Bombay Sapphire & Light Tonic (both rrp £2.80).
The Light RTD responds to the growing demand for lighter drink choices, containing just 98 calories and 92% less carbohydrates than the original Bombay Sapphire & Tonic RTD.
Bombay Bramble & Tonic is a bar quality serve made with the brand's bold, berry flavoured gin that launched last year. Consumer appetite for fruit flavours is still dominating the RTD category, states the firm.
The matte-finish packaging has been designed to preserve the standard of the drink both on-shelf and once purchased. The material helps protect the liquid from sunlight keeping the G&T fresher and colder for longer and is also 100% recyclable.
Both drinks will be available to Nisa retailers from May and Bombay Sapphire & Light Tonic will also be in the Co-op from September.
Bacardi claims that demand for high quality and pre-mixed drinks has grown exponentially over the past five years and is forecast to continue 32% in the next four years as consumers are looking for premium yet convenient options and are opting to socialize outdoors, driving the popularity of this category.
Natasha Curtin, Bombay Sapphire global vice president said: "Summer is just around the corner and the popularity of RTD just continues to grow. Whether it's al-fresco events, relaxing at home, entertaining friends or on the move, the pre-mix is skilfully crafted to showcase the signature juniper and citrus notes of Bombay Sapphire gin. We have also seen research that shows 90% of RTDs are consumed in the home which is testimony to the versatility of the category [Kantar Demand Moment Insight, Aug 2020]."