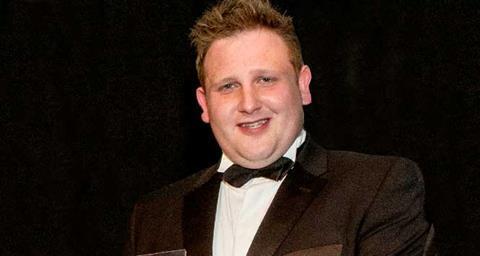 The Nisa retailer continues to steer through obstacles that the health crisis has inflicted upon his convenience store, but now he's juggling another role
Dan Brown (28) is applying his retailer roots to his new position as the youngest president of the Scottish Grocers Federation to date.
"I'm truly honoured to be taking on the role and I am looking forward to the challenges ahead," said Brown. "I hope to bring a fresh vision to the federation, guiding our members into modern times and continuing to strengthen and unite our industries voice at a government level."
But undeniably, it is a trying time to guide the SGF as convenience retailers grapple with the ongoing challenges brought on by the coronavirus pandemic .
"This year has already presented us with circumstances that nobody could have predicted, and as an industry, retailers have fought through these challenging times with heroic strength and resilience."
Brown has involved in the retail sector for more than 17 years, including an almost two-year spell with Scotmid. He then joined the Nisa symbol group as managing director of the award-winning Pinkie Farm store in Musselburgh, Scotland, in January 2018.
But like all other c-store retailers, he had to quickly adapt to a new normal when the pandemic struck.
"Thankfully for our close connections with our local suppliers and wider wholesalers, we managed to deal with the significant increase of demand over a short space of time. And have managed to continue providing the essentials to our customers."
While Brown's store had a boom of traffic during lockdown, he said maintaining social distancing and cleanliness of the store is the key to holding onto that additional footfall.
But it was attending to the volume of delivery orders that raised concerns for Brown considering it was a service he hadn't done before.
"To start with, we put together £20 essential kits specifically for people who weren't able to leave the house," he said. "And because everything was standardised, we could guarantee the stock which sped up the whole process.
So whether it was consistently reversing stockpile-stripped shelves, maintaining social distancing, or implementing an untried delivery service, Brown had to carry out these services in what felt like an overnight turnaround but has managed to get into a somewhat normal pattern.
"Once things settled down, we continued doing orders over the phone but we're now in the final stages of getting set up on Uber Eats."
On the horizon
So as he takes up the baton in his new role, what plans does he have to help guide other retailers over the next challenging years?
"We have the deposit return scheme on the horizon, so we just want to make sure give as much guidance as possible to members on what the best option is for them.
"The manual takeback means the retailer will have to store the bottles, cans and such, in various bags. Or the other option, the return vending machine, will compact and crush down large volumes of recyclable products, and keep it all contained.
"But both of those present challenges. The machine itself is expensive and takes up quite a bit of space so it's probably not the best option for a small store. But at the same time, they'll have to think about the space taken up with the bags."
Brown said they're also helping to push through the Protection of Shopworkers Bill to provide an additional level of safety for staff. "To us, it's very much a once in generation opportunity to create a safer environment for retailers and customers."
So while commencing his new role and continuing to drive the force behind his own store may sound like a handful, his retail background has only honed his approach towards his new presidential position.
"I have been very fortunate to have worked for and learned from some of Scotland's leading retailers over the years, gaining experience in a variety of Independent stores as well as larger chains.
"This has given me a strong understanding of the industry and a wide range of connections within it, which I feel has positioned me well for taking on the role."