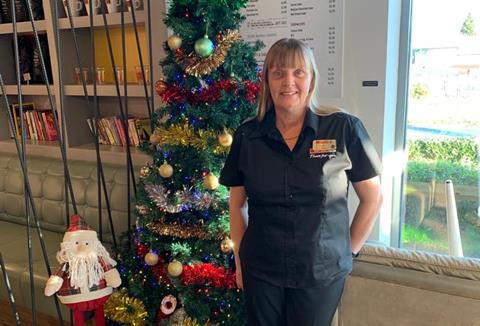 Manager of award-winning Spar Laceby Lodge, Linda Carrington, has received a British Empire Medal (BEM) in The Queen's New Year Honours for 2021.
Linda, who manages A.F. Blakemore's Laceby Lodge forecourt store in Grimsby which won the Best Multiple Managed Store category at The Convenience Awards 2020, has been recognised for her exceptional services to the community during the Covid-19 pandemic.
Linda said she was "truly honoured to receive the award". "When I first found out about it I couldn't believe it – in fact, I actually deleted the Honours email as I didn't think it was real," she said. "I couldn't have achieved this recognition without the hard work of my Spar team, so I see it as an honour for all my colleagues who have worked tirelessly throughout the year to keep essential services going for the community. It's fantastic to know that we're really making a difference."
Blakemore Retail operations director Chris Bacon said: "This award recognises Linda's immense dedication, kindness and talent for bringing her store closer to its community. In the words of one of her close colleagues, she is truly unique.
"Linda is one of the hidden heroes in our nation's food supply chain, giving 40 years of her life to pioneering ways to run a food store to best serve a local community. She takes her commitment to her team and her community to the highest level.
"Her drive and leadership has resulted in teamwork that has pushed her store to be an exemplar of best practice in community food stores. This year's lockdowns have really highlighted the importance of community stores being led by someone embodying community spirit.
"Linda is a much-valued colleague, and here at Blakemore Retail we are bursting with pride."
A statement from Blakemore highlighted how during the pandemic, Linda has been a role model for store managers across Blakemore Retail and the wider country. Back in March, when many were still looking for guidance on how to operate their businesses, she was an early adopter of social distancing and hand sanitation, and led daily briefings for colleagues.
Linda also works with A.F. Blakemore's charitable trust, the Blakemore Foundation, to support local good causes, and volunteers to help homeless charities in Grimsby. All year round, including Christmas Day, she hands out hot snacks to the homeless community. Linda is the Charity Champion for Blakemore Retail's Hull and Humberside region, coordinating the fundraising efforts of 15 Spar stores in the area.
Want to rub shoulders with the top retailers in the country? The Convenience Awards 2021, brought to you by ConvenienceStore.co.uk, The Grocer and Lumina Intelligence, are now accepting entries. If you think your store has what it takes to be the very best in the industry, enter now.