When your store measures just 1,000sq ft, every inch counts and Faraz Iqbal is a master of sweating the space at Premier Linktown Local in Kirkcaldy, Scotland. He has spent over £30,000 upgrading the Convenience Awards' Best Small Convenience Store 2020 and making some big changes:
- Meeting more shopper missions
"For about a year we'd been looking at introducing more stuff," he explains. "We'd made a list - F'real, Tango Ice Blast etc. We also needed to improve chilled space as we were doing a lot of refilling because we're so small."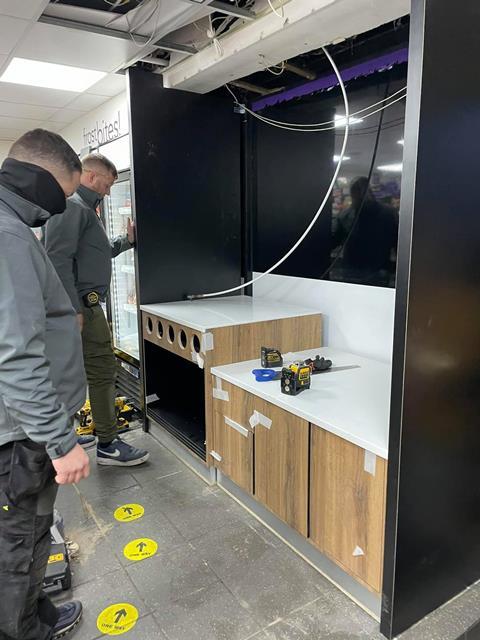 Machines makeover
The refit saw Faraz introduce F'Real, Tango Ice Blast and Fwip machines, some new shelving and electric work for LEDs for the food to go units, plus two new fridges.
"Before, as you walked in the store, you had a Tchibo coffee machine on the right," he says. "We've got rid of the cabinet and just have coffee on the countertop now, so it takes up very little space."
The small coffee unit is now joined by a showstopping large F'Real machine, alongside a Tango Ice Blast. On the other side of the doorway, the Stuart's bread display, which was installed in early 2019, has been moved into the first aisle now that the offer is well-established, and a new Fwip ice cream machine gleams in its place, boasting colour changing lighting. "I think the food to go machines will complement our delivery side," explains Faraz (more on that later).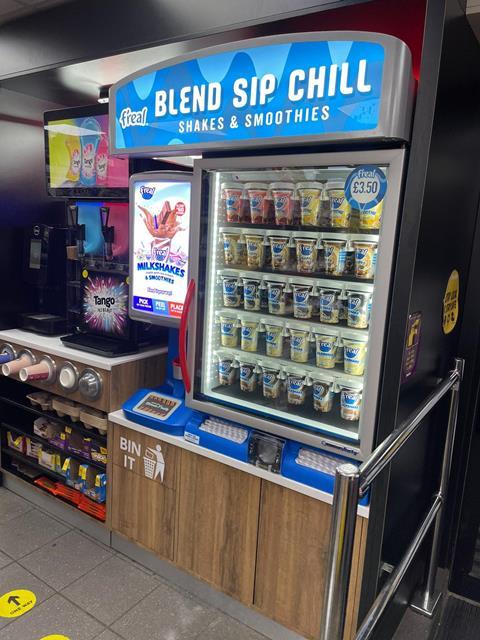 Range optimisation
Faraz created more space by adapting his existing fixtures. "The promo bays were quite deep, so we've moved them forward and added another half bay at the end," he says. "It's just clever thinking a wee bit." Hanging bags have come off the side of promo bays, and there's now a whole bay of them next to chocolates. "They're all together, so we've tidied it up a bit."
Slower moving categories have been reduced. "We've cut down on grocery, pet care and household cleaning," he explains. "Before, when we planned it, everything was a slow seller, then during the pandemic some became high demand products, but not any more. We've looked very closely at grocery - before, we had three types of bleach - do you need citrus, normal, etc? It's the same with soaps and sauces - at Christmas we sell cranberry sauce, but is it worth taking up shelf space for the whole year?"
The old news and mags display has been condensed and Faraz has also optimised soft drinks. "I didn't want to upset customers, but I've not seen any difference at all," he says.
Meeting more shopper missions
The chilled offer has been upgraded, enabling Faraz to improve the store's snacking and dinner solutions. A snack and go chiller facing the counter contains sandwiches and food to go lines, such as meatballs, chicken bites, Lunchables, and burgers. "That's freed up space for chilled so we can get more fresh meat out," he says. "We have more chicken, ham, pizza, garlic bread - meals for tonight. It's all about display - we didn't have the right space to give it before."
The store has successfully changed its alcohol licence and is now able to stock more alcohol. "We've got a half metre bay of red wine, which was previously behind the PO counter," says Faraz. "Customers can access it and see what they're getting. Taking wine out has given us more room for spirits behind the counter and we have more beer in the fridge."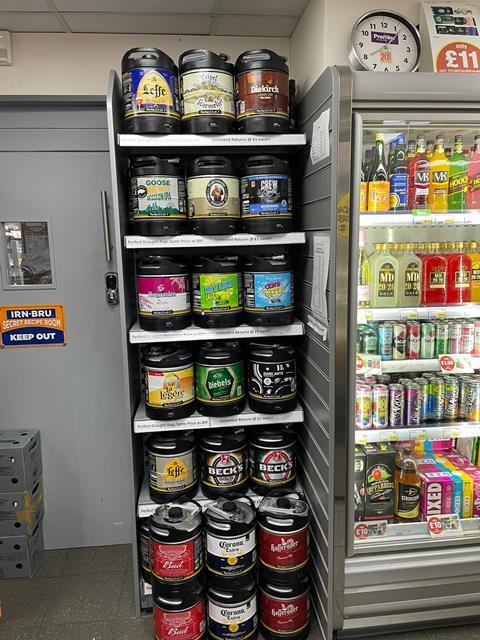 Kegs on display
The shop also has a section dedicated to kegs, which have been so successful since Faraz started stocking them last year that he has set up a separate Facebook site to cope with the unprecedented demand. "Kegs have been doing really well," he says. "We made a half metre bay and we have stock in the back. The store is an official retailer for Beerhawk and sells at the same price as the firm's direct website. The kegs are £30+, and the margins are "reasonable", states Faraz. "There's a wee bit of work involved - dealing with empty kegs," he adds. The store offers unlimited returns and £5 for each empty keg. "We store them and send them back - they're coming out of our ears!" he says. Faraz ended up buying a shipping container to help with storage, claiming that keg returns are all part of the appeal. "It's about service, it's about local - people can buy it online, but I can have it ready cold for them - straight in the machine. Empties I can take there and then, whereas online they have to sticker it and bring it to a shop."
Ensuring smooth communications on the keg side of the business is also time-consuming. "There's a lot of customer service work - people are messaging you questions - what have you got? Can you chill this? Can you keep this aside for me? Can you get a machine? Once they message, you reply, they reply and you're sending hundreds of messages a day."
Plus, the physical moving of kegs is also resource-heavy. "It's a lot of work, it's not easy." But ultimately it is worthwhile and brings new customers into the store. "It makes up a good percentage of the business," he says.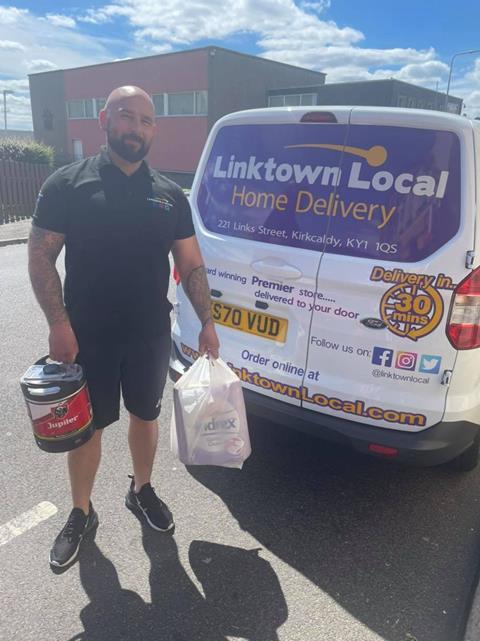 Delivery with a difference
New external signage promotes another key part of the business - the store's 30 minute home delivery service. "We're working with Zeuslabs," explains Faraz. "I just pay a monthly fee. The only difference is I have my own website as well.
"I wanted something relatable as some older people don't have Facebook," he says. "The biggest problem was how to explain to a customer how to download an app, this way they can just go on the website. On Facebook we direct people to the website - promoting our own brand, no one else's. If we change things in the future, customers can still go to the website."
The magic combination of home deliveries, kegs and the refit has seen turnover jump 20% year-on-year. Faraz is pleased with the store's new look. "There's still some internal signage to go up, but we're getting there now," he grins. "We're really happy with it and Premier is always doing everything to help."