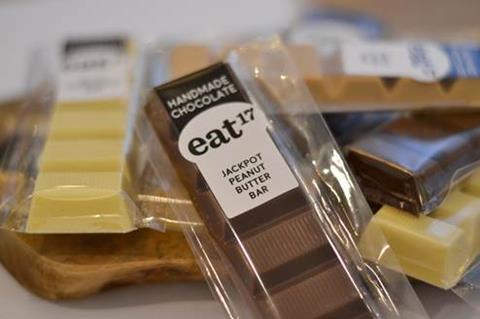 Spar retailer James Brundle is enjoying the sweet success of Eat17's newly-launched own-brand chocolate range.
But as the conscious shopper becomes a more prominent figure in the food and drink industry, with concerns around health, how is it enticing customers?
Brundle, co-founder of Eat17, believes the success lies in its generous fillings and "stand out from the crowd" flavours.
Since it launched in October, its sales have soared 10% week-on-week in stores, tempting customers with its plain white, milk, and dark chocolate options, as well as a milk honeycomb flavour – which has already "blown away" its customers.
"People tend to be multi-buying it," he says. "Buying three or four different flavours at a time. It's rare for someone to just pick up one."
Created in its new chocolate factory in Bishops Stortford, Hertfordshire that opened in line with the launch, other flavours include: Neapolitan White Chocolate, Lotus White Chocolate, Dark Hazelnut Caramel Choc, Salted Caramel Milk Choc, Milk Banoffee Choc, and Milk Peanut Butter Choc using Jackpot Peanut Butter – which is a local supplier.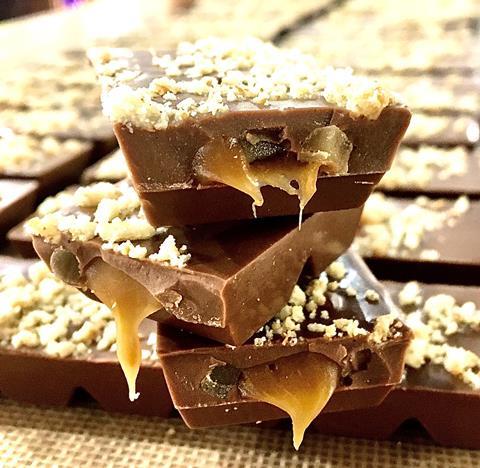 The latter, as well as its salted caramel and banoffee flavours are proving popular, he adds.
But emphasising its value-led principles, support for local suppliers, and homemaking the chocolate by its resident chocolatier, Jade Alterman, has been also been a key driver for its growth.
"What we're doing is unique," said co-founder James Brundle. "We've got a strong loyalty with our customers because of how much we the make products ourselves and support local suppliers, so we are differently placed to a lot of retailers."
The London food and convenience chain said it's spent recent weeks perfecting the product and is currently on the hunt for some "fine food wholesalers" to distribute the product to.
"Usually artisan bars are quite thin," says Brundle. "But ours are thick, like twice the thickness of a Galaxy Caramel for example.
"We haven't been tight on the fillings either. We've been very generous with ingredients and inclusions.
"But it needs to be the right price point too," he adds. "That's really important."
Eat17 currently stocks the full range across its four stores in Hackney, Bishop's Stortford, Walthamstow and Hammersmith, selling at £2 for a small bar, and £4-£4.50 for a large bar.
Brundles goes on to tell ConvenienceStore.co.uk he's feeling optimistic about the year ahead, keeping its core values at the forefront to maintain its customer loyalty.
"With our bakery, our chocolate factory, we've always had an emphasis on doing things different and standing out. It's our key driver.
"So we're hopeful that that will be enough to keep us going and keep us relevant to customers."