Having joined the company as chief executive officer in March 2018, Colin McLean has spent the last two years introducing a new management team and refocusing the business. He tells C-Store how COVID-19 has seen the firm strengthen its supply chain by embracing digital and improving communications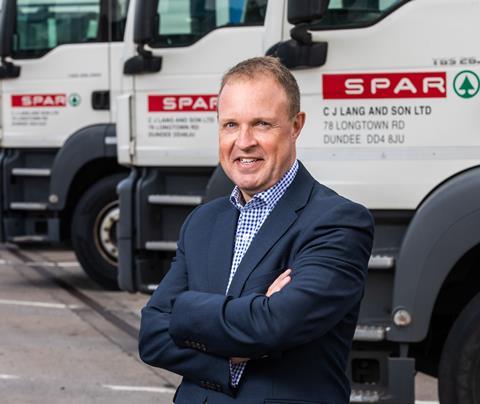 The pandemic has brought with it no end of tragedy, but it has also forced businesses to make changes for the better, accelerating decisions that could otherwise have taken years.
"I wouldn't have planned it by any choice of course, but with lots of new people in our business at the moment because we're going through a huge turnaround it's actually brought the teams much closer together," says McLean. "I've just had 60 of them on a Zoom call just now, my cross-functional leadership team, just talking about how we are, where we're going. We had 350 suppliers and their representatives on call a couple of weeks back as well, really just trying to use technology to keep everybody joined up."
He points to the firm's Scottish roots as one of its biggest strengths in surviving the COVID-19 chaos. "We have the advantage that we are genuinely Scottish and because we've got our own trading team, we've been able to take the best of Scottish local products together with the Best of Spar. Because we've got good links with Graham's Dairy, Farmlay Eggs, the award winning bakeries or the local butcheries, we've been able to tap into good local suppliers to support stock levels over the months and we've been able to keep supplies moving very much over the last time period," he explains. "We've been fortunate because we've got our own distribution centre. We had capacity, we've got the trucks, we've got the stores, we took on additional capacity. We partnered up with Brakes Foodservice in the early days to help manage the volumes."
Communication
McLean was keen to communicate this to suppliers in order to further strengthen the group's supply chain. "We've been sharing our sales performance with key suppliers to help them understand the record volumes and the opportunity for them to help support feeding the nation," he says. "Back in the beginning of June, we shared the data with suppliers and showed convenience is driving growth at the moment. The multiples would have taken the share historically, but given the record volumes we've seen at wholesale and retail level, we've been trying to get that message across by sharing the data.
"We are the fastest growing [Spar] RDC [Regional Distribution Centre] at the moment. So the message to suppliers was: If you want part of this opportunity this is where we are, this is who we are, this is the team, our customers - both new and existing customers - are clearly shopping locally. We had 50 independent retailers on the call as well to demonstrate to them what we were doing talking to the key multiple suppliers across the UK."
He claims that the video calls have removed the physical miles, which had been a barrier to communications in the past. "Historically, being in Dundee meant it was difficult for suppliers to come up and spend the time. We've certainly turned that on its head with regular Zoom calls internally and with key suppliers to keep the thing moving."
He concedes that the group has been "a sleeping giant". But that after five years of decline, it is now celebrating 25 months of sales growth. "The business has been underinvested," he states. "We haven't been customer-focused as a business and we certainly are now."
Coronavirus has given the company time to stop and reflect on its direction of growth. "With planning, it's [covid has] put a hold on everything we were doing, but what we have been able to do is take sensible time out to plan our programme," he says.
"We're looking at a macro space, we're looking at a micro space, we've got some exciting new macro relays that we're working on at the moment, we're looking at some exciting range changes as we modernise our range - with grocery, for example, we recognise that it's been a tired range in Scotland. How do we modernise that? How do we make it far more relevant for our customer needs? We've been doing a lot of good stuff around food to go and how do we differentiate our offer against the competition. I'm not going to take Tesco on, but what I can do is be a very good Scottish convenience player."
We've probably learnt more in the last 14 weeks than this business has learnt in 100 years
CJ Lang is now taking a more tailored approach to ranging going forward. "Historically, we had one size fits all so our ranging proposition was very much whether it was a large store, or small store, replication of the same thing," says McLean. "If anything, coronavirus has given the opportunity to clear out some of those older ranges and bring in those new fresh and modern ranges that customers want. We're not going to expand grocery's overall space, but what I can do is give a better micro proposition for people to do an all-round shop. We've been using CACI for the last couple of years to understand our customer missions - what are they buying - and coming back to being far more customer focused."
The group is about to undertake a major IT systems review, remodernising systems and processes to improve efficiency. "I think there's loads to go for, making it much easier for our retailers, for our customers to shop, taking task away," says McLean. "Covid has demonstrated you can go faster, the opportunity is how do we bring in new systems and new processes to keep that up and keep the momentum going? Covid has demonstrated that you can have an entire business effectively working from home with key workers at the front doing a terrific job. It's allowed us to address different ways of working and just work smarter and far more efficiently."
The speed at which the company has adapted to the crisis is undeniably impressive. "A 100 year old business and who'd have thought we'd be first out the starting gates doing video conferences with our suppliers, actually working with them and sharing the results?" grins McLean. "The exciting part is we've probably learnt more in the last 14 weeks than this business has learnt in 100 years in terms of change and the exciting opportunity to move forward,whilst staying safe and managing it carefully. The brand is being modernised and represents a big opportunity as we take a hold."