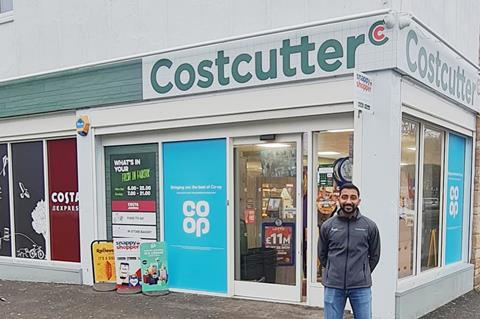 Falkirk retailer Anand Cheema has switched to Costcutter from Spar.
A finalist in the Rising Star of the Year category of The Convenience Awards 2021, Anand is son of the current CEO of the Scottish Grocers Federation, Dr Peter Cheema.
Anand said the switch to Costcutter was driven by the "shared vision" he and the group have.
"I'm delighted to join the Costcutter brand and am excited for the journey ahead, where I will be able to improve my business and its overall profitability," he explained. "We have a successful history with the Costcutter brand, having enjoyed tremendous success as a Costcutter store in the '90s through to the early 2000s. We still have a great relationship with members of the team.
"I was particularly impressed by the ambition of the Bestway Group and the successful direction the business is clearly heading in. For me, it's all about teamwork and optimising the best possible opportunities. It's important to be working with a symbol partner that has the same vision as I do and who is looking to grow together with its retailers."
The store has already been rebranded to Costcutter and will undergo a full refit later this year.
"This is the next stage in our growth and development in a fast-changing market. We know that consumers' shopping behaviours are changing fast right now, and we want to ensure we are at the forefront of that change. We're here to serve our community and that is and will always be our number one priority."
Head of new business and store development at Bestway Retail Jamie Davison added: "We are delighted that one of Scotland's most exciting young retailers has joined our Costcutter brand as it's a great time to join the Bestway family.
"Anand has already had great success in his retail career, and we believe that together, we can help him grow his business even further."