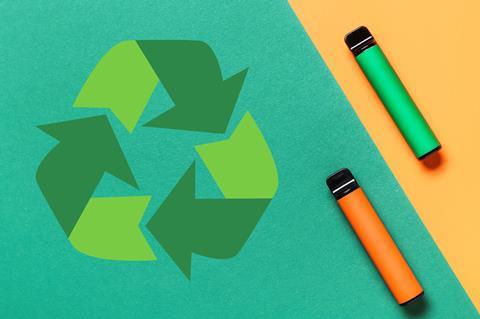 A massive increase in the number of vape recycling bins and more convenient recycling methods are needed to support a greener category in the future, according to industry leaders.
At the recent United Kingdom Vaping Industry Association (UKVIA) forum, it was raised that the failure to roll out more recycling solutions could pose a potential threat to the vaping industry amid concerns over sustainability.
It comes after a recent study by Material Focus investigated the disposal methods of single-use vapes and highlighted the need for more accessible and visible vape recycling drop -off points. The study reported that around five million disposable vapes are thrown away every week.
On a panel discussing the issue, Delivery Group founder and senior non-executive Paul Carvell realised the scale of the problem after his local store failed to provide guidance on vape recycling when he asked them.
Carvell estimated there are around 13,000 vape recycling collection points in the UK out of a possible 200,000 when sites such as stores, colleges, airports, trains, schools, universities are taken into account.
Carvell said: "The opportunity from a logistics perspective is massive and so is the scale of the problem, we've got to move from 13,000 to 200,000 and that's not going to come easily."
Idwala Research managing director Pieter Vorstar, a company that is currently involved in a study in waste management, explained that recycling single use vapes needs to be made easier for consumers.
Vorstar said: "It's about getting consumers to do it and making it easier. One of the reasons people use disposable vapes is for convenience, so how do you make it equally convenient for people to participate in the recycling process."
While consumer education has been a bone of contention when it comes to sustainability, the panel said it could be some time before shoppers realise the environmental impact of single-use vapes.
When asked if displaying more prominent information about recycling would help, Riot Labs sales director Matt Crann said consumers aren't interested in recycling the products right now.
"It's a nice idea and good to be associated with that messaging but the harsh reality is that it won't make any difference. You can advertise in store with leaflets and advice from the store staff that this product can be recycled. The education piece is available – it's just whether the consumer will go to the effort of recycling the product."
Crann said the name of the products is a barrier to recycling for consumers.
"These products are called disposable so it's automatically in the consumer's mind that this product should be thrown away. It's got no value whatsoever after it's been used in their minds."
On a more positive note, he revealed that consumers are seeking sustainable options and that shopper trends are shifting at point of purchase.
"Sales of 10ml [devices] and the refillable systems have gone up incredibly over the last six months. People are looking for more sustainable options."