PayPoint One was live in 16,098 sites as at 31 March 2020, an increase of 3,217 year-on-year, with 98.9% of PayPoint's independent retailer partners now using the platform, according to the company's preliminary annual results.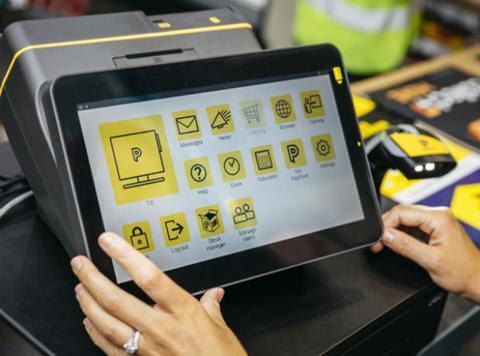 The old T2 terminal has been retired from the independent sector and the company achieved its upwardly-revised target of 16,500 sites using PayPoint One on 21 February 2020, although subsequently a number of sites became non-operational due to the virus outbreak.
In the year ended 31 March, net revenue was £120.7m, an increase of 3.5% on a reported basis and 4.1% on an underlying basis. This was driven by a 10.5% increase in UK retail services income, growth of 0.3% in UK bill payments, and growth of 5.5% in the company's Romanian business. PayPoint One average weekly service fee per site increased to £15.40 from £15.10 last year and total service fee net revenue increased 28.1% to £13.1 million.
Profit before tax excluding exceptional items increased by £3m to £56.8m, althogh £2.1m of this increase was a "variable pay benefit" resulting from the decision to cancel management bonuses due to Covid-19 and the release of share-based payment accruals.
Chief executive Nick Wiles told C-Store:
"We have to support retailers to make the most of the functionality of the epos aspects of PayPoint One. Those that have been using it have found it really useful for management of stock and pricing, and the next phase is to make sure that as many retailers as possible get the maximum value (from the system).
"We spend a lot more time with new retailers, proactively showing them how they can use the epos data, than we used to. Going forward there is an opportunity to use this data to manage retailers' product offerings, but that will only come once retailers have really adapted to use the full functionality and have that embedded in their operations.
"We know we need to work with retailers as partners, and we want to play our part in supporting them during the current crisis through our contact centre, and to do what we can to support them financially in a sensible and measured way."
Parcel volumes through the company's Collect+ division increased by 12.7% during the year, primarily due to growth from new parcel partners.
During the lockdown period, parcel volumes fell to as low as 50% of normal volumes as sales of new clothing fell, retailers were reluctant to handle parcels, and carriers were usually able to deliver to homes first time. Latest figures show an improvement, with volumes down by 20%, Wiles pointed out.
Retail services, which includes the company's estate of ATMs, grew strongly during the year, but ATM withdrawals are expected to be lower during the virus outbreak.
"Cash in the economy is obviously going to be lower because of Covid-19, and we won't see the full impact of this until later, but we still see ATMs as an opportunity for us, and we are looking to grow that estate in future," Wiles added.