PayPoint and payment app RingGo have joined forced to launch RingGo Retail, a new offering that enables drivers to pay for parking at over 27,000 retailers across the UK.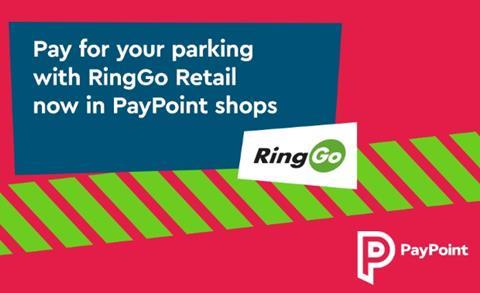 The payment solution allows motorists in more than 400 towns and cities to pay for their parking via PayPoint's retailer network. The retailer simply enters the details of the customer's parking session and it can be paid for touch-free.
Designed to aid social inclusion, RingGo Retail means that drivers who were previously unable to pay for parking on a smartphone are now catered for.
Motorists can find their nearest PayPoint convenience store on the RingGo or PayPoint websites.
Client services director at PayPoint Danny Vant said: "Accepting RingGo payments across our network of 28,000 retailers is another example of how we are transforming convenience for both retailers and consumers. We're proud of this new partnership as it offers greater accessibility to drivers everywhere."
RingGo's managing director Peter O'Driscoll added: "With the addition of RingGo Retail, at no additional cost to providers, we've created an inclusive solution that allows people without smartphones access to paid parking. Now drivers across all demographics can choose how they pay; on the move with RingGo app, or via cash or contactless at one of 27,000 outlets across the UK, whatever way they prefer."