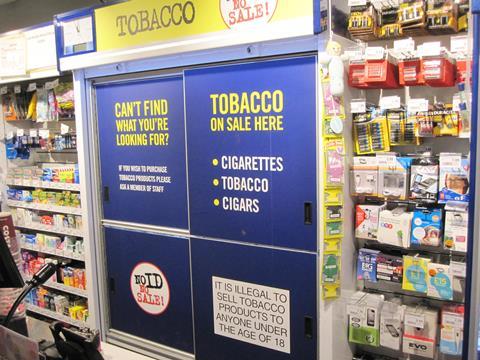 Retailers are one step closer to gleaning vital details on how and when they will be able to apply for the two crucial codes they will need to buy tobacco legally from 20 May this year, after HM Revenue & Customs (HMRC) finally revealed the name of the company it had appointed to implement the new Track and Trace system for tobacco products.
De La Rue, the world's largest designer and commercial printer of banknotes and passports, has signed a £3.5m contract with HM Revenue & Customs (HMRC) to implement the regulations, which as part of the EU Tobacco Products Directive, seek to combat the illicit tobacco trade.
The five-year contract will see De La Rue create and manage a new digital solution to track and trace the 1.7 billion tobacco packs sold in the UK each year, from the point at which they are manufactured to when they are sold to stores, via a unique alphanumeric code which will be printed on each pack.
Retailers will also need to apply to De La Rue for the two codes - an 'economic operator identifier code' for their business and a 'facility identifier code' for each of their stores - that they will need in order to buy tobacco from 20 May.
Retailers who are prosecuted for selling illicit tobacco on three or more occasions will be stripped of their codes, and therefore their ability to buy tobacco legally.
However, with less than three months before the regulations are due to come into force, the crucial details of exactly how and when they can apply for the codes in the first place have yet to be published.
The lack of communication is contributing to a widespread lack of awareness and knowledge among the retail community about the impending legislative change.
According to a new survey of over 1,400 retailers carried out via JTI Advance, 70% of store owners surveyed were unaware they would have to apply for two separate identifier codes to be able to store and sell tobacco products legally.
In addition, 60% said they were unsure of when the legislation was due to come into effect.
To support retailers and wholesalers through the transition, JTI is launching a dedicated microsite www.jtiadvance.co.uk/trackandtrace featuring a host of practical information and advice to help them prepare.
According to UK government estimates, the illicit tobacco trade accounts for 15% of the cigarette market and 28% of the hand rolling tobacco market in the UK.