A range of bright point-of-sale material can be a great way to draw customers in, but it is important that retailers don't overdo it
With the discounters and supermarkets offering wide ranges and keen prices, convenience retailers need to convince shoppers that they too can offer value and attractive products. And while there's plenty of hype around using Twitter and Facebook in communicating with shoppers, there's also a solution to be found a lot closer to home: POS material.
"We use POS material throughout the store; this includes posters, shelf-edge labelling and shelf wobblers," says Amit Patel, owner of Belvedere Food & Wine in Kent. "I try to stay competitive with the supermarkets as we have just had a new KwikSave store open 15 yards away down the road, so it is becoming even more important to shout about what makes our store different and value for money."
Isle of Wight retailer John Perrett is equally passionate about POS. "We use a lot of POS in the store, from shelf signage and stack cards to hanging ceiling signage and posters. I believe POS is a vital part of the business today; it is an effective tool to attract attention, communicate with customers, and it works really well," says the owner of the Hunnyhill Group of Spar stores.
In addition to internal POS, John is also a fan of external signage. "From time to time we have hanging signs, A-boards and posters outside the front of the store that entice customers in," he explains.
Concept Data Display, which offers a range of POS to independent retailers with a bespoke manufacturing service, agrees that POS has plenty of benefits to offer small stores.
"POS is a great marketing method; it can highlight areas of the store, improve store communication, enhance a store's level of customer engagement and, most importantly, increase sales," points out marketing manager 
Sara Walker.
But despite POS being recognised as a vital mechanic to generate sales, it isn't just a case of filling the store up to the ceiling with signage. It is all about getting the balance right, according to John. "Sometimes retailers can fall for the common mistake of overdoing it with their displays and the amount of POS they use, and it's easy to see how," he says.
"I don't think POS works too well when stores overdo it, because the store just becomes too cluttered. Shoppers are busier than ever now and don't have all day to stop and read every piece of signage around the store."
Raj Aggarwal, owner of Spar Wigston in Leicestershire, warns retailers not to get carried away. "With so much competition out there on the high street, it's important to catch customers' eyes, stand out from the crowd and be noticed, and sometimes you can get the balance a little wrong and be too 'in your face'.
"Sometimes retailers can make their shop look just like a discount store and devalue the store by having too much, while it can also make the store look untidy."
Walker also advises taking a lighter hand. "My advice to store owners is to make sure POS isn't disrupting shoppers by blocking aisles or interrupting store navigation in a detrimental way," she says.
Jai Singh, owner of MJ's Go Local Extra, Sheffield, agrees that less is more. He says: "It's important that retailers don't just use every single piece of POS material that they receive from their suppliers, because this can make the store overcrowded. I visited a store once that had five or six cardboard stands from a number of different suppliers that were located in random areas of the store and had no relevance to the shopper's mission."
Easy does it
Jai says he prefers his POS material to be in keeping with the look and feel of his store, and is selective about what he uses. He says: "Personally, I don't really like to use too many shelf wobblers; I think they look untidy and don't stand the test of time too well, looking weathered after a while and often falling off.
"I change the deals and signage quite regularly, but generally play it by how well it is performing. Some displays that look tired or aren't working anymore will get changed, and I like to keep up with shopper missions and make sure my signage is centred around making those purchases easier."
Shopper missions are central to Jai's choice of POS. He has identified that shoppers looking for dinner that evening is a growing consumer trend as consumers continue to shop little and often, and is using POS to point them in the right direction.
"I have been speaking to Heineken and they have helped come up with ideas for the 'meals for tonight' mission. We are looking at introducing a deal based around rice, meat, sauce and beers for a set price, offering customers a saving and helping them to pick up everything at once. If we do this, we would use similar POS to that of our meal deals targeted at lunchtime. We offer deals on sandwiches, pastries and savouries and a soft or hot drink in a deal, and those are signposted by handmade POS. We use shelf bars and end-of-shelf signs that are clear and easy to read," explains Jai.
Raj is considering implementing 'meals for tonight' offers with accompanying POS, seeing great success with meal deals and matching POS. He says: "We use signage all around the fridges that says 'meal deal' on them, to bring attention to the savings customers can make when they combine certain lunchtime items. We also use shelf-barkers that carry the message and state which items are part of the meal deal. We are looking at the possibility of using a similar POS strategy with other meal times, such as meals for tonight."
John relies on Spar to supply much of his POS. "Spar does it just right because they rotate their offers and signage on a three-week rotation, which I feel is the perfect duration because it is long enough to build interest from customers and changes frequently enough so customers don't get bored and have something new to look forward to."
Jai prefers to design his own POS. "I make a lot of my own signage by using Photoshop and produce them using a high-spec printer," he explains. "Not only do they look professional, but they also can be tailored to my own specification and easily edited whenever I need to. They also fit in well with the look and feel of the store and our own branding."
Handmade POS works best for Amit, too. He says: "Most of our signage is handmade, as I like to change promotions regularly. It is quick and simple to make signs and have control over the deals I put on."
He claims that creating his own POS means that the products are made from high-quality material and fit for purpose. "Sometimes the POS you receive from suppliers isn't put together that well and signs can fall off, especially when customers accidentally knock them, and it can be a pain having to stick them back onto shelves. That's why I just prefer to make my own stick-on labels that are easy to attach and remove afterwards."
There's no denying that POS is an essential tool, but it is crucial that retailers get the balance right in order to send out a positive message and reap the benefits.
Jai says: "I think it is all about finding out what works for you, addressing your customers' missions and being selective about how much POS you use and what kinds work and not being afraid to try new things."
A brightly coloured range of point of sale material (POS) can be a big draw for customers, but it is important that retailers get their mix spot on.
Go for sports-inspired POS
With a packed summer of sport just around the corner, many retailers are planning to kit out their stores with topical point-of-sale material (POS).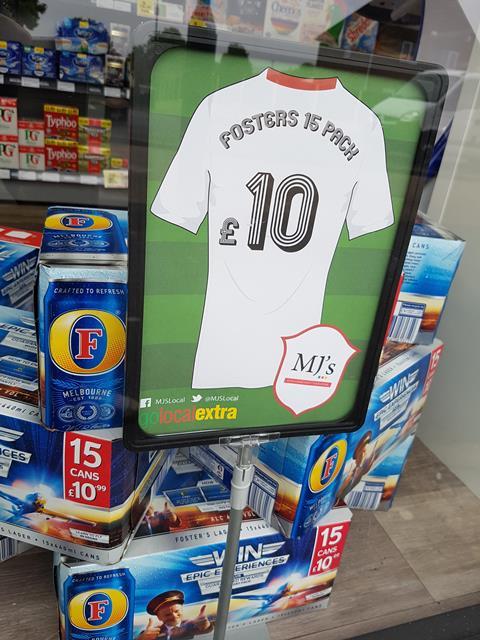 Jai Singh is keen to make his store look the part at his MJ's Go Local Sheffield, with a range of football-themed POS to promote big beer packs.
"We work closely with some of our suppliers and during the summer will be working with them to take on POS stands, posters and promotional POS for the Euros and Olympics," he says.
Amit Patel at Belvedere Food & Wine in Kent is hoping to recreate the success seen during last year's Rugby World Cup, when he used POS material from one of his lager suppliers.
He says: "One of our most successful POS displays was supplied by Heineken around the rugby World Cup, which featured stands and posters and signs to hang off the ceiling. Sales of Heineken were up by twice the usual amount sold. I am hoping that suppliers will provide POS for the Olympics and the Euro 2016 football competition that can capture the eye of our customers."
Technology
Shelf-edge displays go digital
Point-of-sale material (POS) for the digital age is taking off with digital marketing screens and posters widely available. Now it's digital shelf-edge displays that are the latest innovation lighting up c-store fixtures.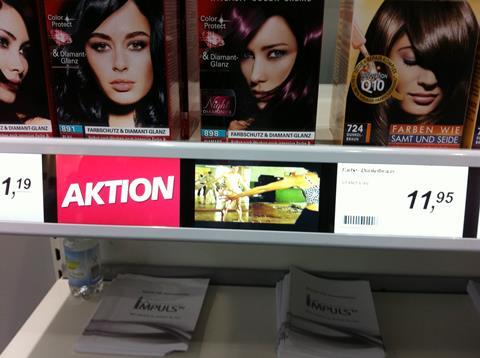 Crystal Display Systems has a range of shelf-edge solutions allowing retailers to display promotional images.
The digital shelf-edge displays come in either battery-powered or mains-powered variants.
Crystal Display Solutions managing director Chris Bartram says: "The digital shelf-strips offer a unique and unparalleled opportunity for retailers to promote and differentiate their products."
Bartram adds that using digital POS can help retailers stand out in the crowd, boost sales volumes, increase advertising revenue and reduce operating costs.
Digital shelf-edging comes in five different sizes, from three screens and five screens, to six-, nine- and 11-screen variations.
The strips also come integrated with either an HDMI interface, multiface USB, display link USB or WLAN/LAN integrated multiface.
Prices start from £226, with larger high-spec versions up to £1,000.