Challenging your assumptions about disability and better meeting the needs of disabled shoppers makes ethical and financial sense.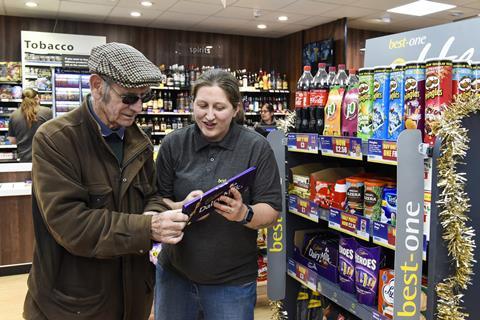 Think about your customers and the last five that you served, in particular. Maybe there are five customers on your shop floor right now? Well, one of them will probably have some form of a disability.
It's estimated that one in five shoppers have a disability of some kind and many will have a condition which is not immediately visible, according to the Business Disability Forum (BDF), and as our population ages that figure could well be set to grow.
As responsible retailers, it follows that ensuring stores are as welcoming as possible to disabled people makes clear ethical sense. But with the spending power of disabled people in the UK at about £249bn per year and rising, it also makes good business sense, says Diane Lightfoot, chief executive of the BDF.
"Businesses that don't cater for disabled people risk losing a significant customer base," she points out.
"Receiving good customer service is important to everyone, but it can be particularly important to disabled customers who may have very specific needs and be concerned about how these will be met by your organisation."
Under the law, you must ensure that disabled customers can access your service in the same way, or as close as possible to the same way, as customers without a disability.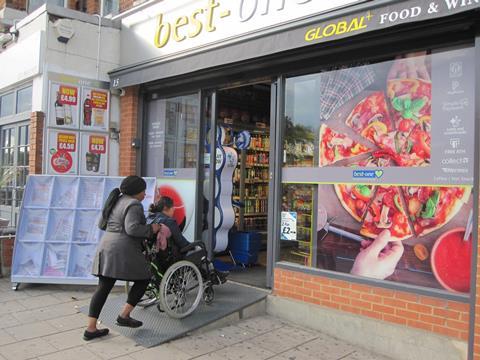 Adding portable or permanent ramps are therefore key, while ensuring that aisles are uncluttered and positioning high-demand goods at eye level will also be of great help to shoppers with mobility challenges.
The addition of hearing loops can also be of huge benefit to customers with hearing loss, but if you have one fitted, it's also vital that staff understand what it is, how it works, and are sure that it's working properly.
A hearing (induction) loop is a piece of equipment that allows a hearing aid wearer to hear more clearly by cutting out background noise. Specific counter loops in stores have tiny microphones installed on or under the counter which allow the sound of the sales assistant's voice to be better picked up by hearing aid wearers when set to the T setting.
For Sid Sidhu, owner of Budgens Kenilworth in Warwickshire, making his store more accessible and welcoming to disabled shoppers has been a key focus in recent months.
He explains: "Our store is located near to a residential home for elderly people and many of our customers use wheelchairs or mobility scooters, meaning that it was vital that we made the store as welcoming and accessible as possible for them."
The decision saw Sid re-lay the shop floor at the start of this year, removing two bays formerly used for children's magazines and ambient groceries, in a bid to create wider aisles and more space at the entrance.
"The change has had a two-fold benefit. Shoppers who use wheelchairs and mobility scooters have more space to navigate, but it also encourages browsing and has helped boost basket spend, as they no longer feel that they have to move out of the way for other shoppers to pass by.
"Combined with our high levels of customer service, it's all worked together to create a much more relaxed and welcoming experience for disabled shoppers."
And Sid's ambition to help disabled customers extends beyond the store's walls. "We've also invested in mobile terminals so that we can serve people wherever they are on the shop floor without them having to queue up at the counter," he explains.
"A few of our customers who really struggle with mobility call us before driving down and we go out to their cars, take their lists and do their shopping for them before putting it in their cars and using the mobile terminal for them to pay.
"They can do a full shop without having to leave their cars and, trust me, it's appreciated. We have now become their shopping destination of choice as opposed to other stores in the town where they face more challenges."
Other c-stores, such as Eurospar Ardglass in County Down, are investing in events for those with specific needs, particularly children with learning difficulties.
Inclusive at Christmas
Thanks to the caring and proactive nature of customer advisor Fiona Addis (crowned Sales Assistant of the Year at the 2019 Convenience Retail Awards), Eurospar Ardglass launched its first ever Santa's Grotto for children with autism last Christmas.
In a special event, ahead of the grotto's main opening to the general public, the in-store lights were dimmed, background music was switched off and a much calmer environment was created to avoid sensory overstimulation.
Fiona promoted the event on social media, in-store and via word of mouth. On the night, 10 children with special needs attended with their parents. Each of them was able to meet Santa in a peaceful environment and also received a special treat.
"The children really enjoyed the experience, but it also meant the world to their parents who were finally able to share this magic piece of Christmas with them, and the feedback was incredible. People were just so grateful that we'd taken the time to focus on their needs," Fiona adds.
And, of course, while adding accessible features, tweaking store layout and organising special events can incur costs, there are free, simple, yet highly effective customer service improvements that stores and staff can make.
Lightfoot continues: "Local convenience stores are a lifeline to many disabled shoppers, who may find travelling to larger stores more difficult. Convenience store staff are well placed to build relationships with customers and to provide a really personalised service, which meets the individual needs of a disabled customer.
"Research shows that for disabled customers good customer service is particularly important and customers will return to shops and services who get it right.
"Simply being willing and available to bring items directly to a customer can make a real difference," she adds.
High levels of customer service can play a particularly positive role when helping shoppers with conditions such as dementia.
With the number of people with dementia in the UK set to increase to more than a million by 2021, creating more dementia-friendly shopping spaces is becoming increasingly important.
Understanding how someone living with dementia sees the world is the first step in directing you in improving staff training and store merchandising to better serve those with dementia.
Many people with dementia face a number of common issues when out shopping, including difficulty finding items and not knowing where to go, or who to ask, for help.
All of the above can create unnecessary panic, much of which can be alleviated by clearer sign-age, staff uniforms or even just prominent name badges.
Training staff to guide shoppers to products they need and ask them simple questions with yes and no answers can also make a big difference here.
Black store mats can also be particularly disturbing to people with dementia, who describe walking over them like stepping into black holes. A simple change to the colour of internal mats can be hugely reassuring.
At the till point, people with dementia can also have difficulty remembering PINs, have trouble counting or recognising money, or remembering to pay in the first place.
Ensuring that staff understand these points, take care not to rush shoppers and count change back to them will also be greatly appreciated.
In short, confident, considerate customer service will go a really long way towards creating a far more disability-friendly shopping experience, but also a friendlier shopping experience for all which, in the current climate, can only be a good thing.
For Further Information
The Alzheimer's Society is launching its flagship awareness campaign Dementia Action Week from 20-26 May.
The week encourages businesses, communities and individuals to take on a small act of kindness to help people with dementia feel more included.
For more information on how you can participate, visit www.alzheimers.org.uk/dementia-action-week.
The Business Disability Forum has also recently published a new guide on how businesses can better meet the needs of disabled shoppers. View it at www.businessdisabilityforum.org.uk/our-services/resources/publications/welcoming-disabled-customers/.
Practical advice to help you cater for all needs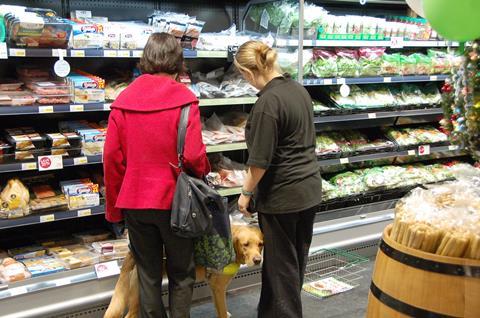 Customers who are blind or have sight loss
Make sure aisles are free of trip hazards and are well-lit
Speak to the customer as you approach. Introduce yourself and ask if they would like help
Never just take a person's arm. Offer your elbow
Offer to bring items to the customer
If the customer has paid in cash, ask if they would like their change counted back to them
Welcome assistance and therapy dogs, but do not stroke or distract them
Customers who are deaf or who have hearing loss
Look directly at the customer when you are speaking to them
Do not exaggerate your lip movements or gestures
Speak clearly and avoid jargon
If the person is using a sign language interpreter, speak directly to the person, not the interpreter
Customers with conditions affecting mobility
Know where any accessible toilets and ramps are located
Do not lean on wheelchairs and never push one unless asked to do so
Offer help with carrying items or bring items to shoppers
Look out for anyone who may need help reaching high or low shelves
Customers with learning difficulties
Unexpected situations, such as an item being unavailable, can be stressful and confusing. Explain the situation and offer help in finding an alternative
The person may find it difficult to regulate the tone or level of their voice. Stay calm and focus on understanding the conversation
Waiting in queues can be difficult. Try to keep queueing time short or offer an alternative place to wait.
Source: Business Disability Forum