Goody-laden waffles, crepes, ice-creams and milkshakes are commanding high margins and helping c-stores to become destinations for shoppers looking for a treat
Covered in cream, smothered in sprinkles, scattered with sweets and slathered in sauce, unapologetically indulgent desserts are making their way into the hands of consumers across the nation. Relatively quick and easy to create in-store, people are willing to pay generously to get their mitts on these calorific concoctions. But who'd have thought in a time where the UK is more health-focussed than ever that these tantalising treats would have such a strong following?
Mo Razzaq, owner of Family Shopper Blantyre in South Lanarkshire, had an inkling. "There's always a place for desserts," he says. "With alcohol consumption going down, people want to treat themselves in a different way."
But just because consumers like a product doesn't mean that it will work in the convenience channel. A couple of years ago, Mo decided to ask his customers directly whether a dessert offering would take their fancy. "We were looking at ways to expand," he explains. "The first thing we wanted to see was where the gap in the market was."
He conducted some online customer research, incentivising people with the chance to win a bottle of Champagne. "We already had a Subway in store and we spotted that there was no dessert shop in our town. We asked people to answer three simple questions on the landing page, which is connected to our Privilege loyalty card," he says. "We didn't want to give too much away so we asked what they'd like to see - food to go like hot dogs and pizza, an old fashioned café, or desserts. Over 70% of people wanted a dessert bar."
He then decided to do some homework by visiting dessert businesses around the country and finding out what was involved. "We didn't have a clue how to make desserts - waffles, crepes and donuts etc. The companies we visited knew we weren't any competition so they gave us good advice about what sells best (waffles) and the best ways to serve ice cream. In a standard freezer, the ice builds up so you get some hard ice cream and some soft, so you need to get a frost-free freezer."
Once he had got to grips with what was required, Mo decided to take the plunge and set up his own dessert bar under the brand Roxy's Desserts, with a view to potentially turning it into a franchise further down the line. Not only is Roxy the name of Mo's wife, but it is also a nod to the bar's 60s vibe, which is reinforced with a pink, black and chrome colour scheme.
The bar offers pancakes, crepes, waffles, cookie dough, milkshakes and ice cream, in addition to cakes. "We introduced five new staff and trained them and practised and practised," he says. "We worked on portion control and standards."
A year and a bit on and the dessert bar is a raging success. "The sweet smells of the waffles, crepes and pancakes creates a welcoming atmosphere," he says. "We have our own playlist as well with sing along 60s style music in the day and more modern stuff in the evenings. It's about creating a package. We want to be the go-to hub."
Having visited Mo's store as part of a self-conducted study tour, Justin Whittaker, who owns MJs Premier store in Royton, Greater Manchester, was blown away by the concept and decided to embark on his own dessert bar.
He explains that his Just Desserts counter has attracted a brand new audience and, in tandem with the store's pizza offering, provides customers with an evening meal solution. "The dessert bar is fantastic. It's changed the shop, changed the clientele," he says. "We used to do a great breakfast solution, an ok lunch solution and then you'd find that even in some of the amazing food to go stores, they're shutting it down at 3 or 4 o'clock. We're not closing now, we're preparing for it all starting again - we've got a teatime solution with the waffles, plus our pizza offering."
Dessert offerings are particularly effective in drawing in a younger customer. "It's getting to the millenials who have money to spend," he says. "Come Friday, Saturday we've got a real buzz and the store is the place to go at the moment. We had a Lidl open on our doorstep three years ago, we've got a big Co-op, an independent wine specialist, Bargain Booze, takeaways - everything, so we have to stand out from the crowd. We've become a destination for the desserts."
Mo agrees that young people are big fans of desserts. "With the younger generation, they're eating healthier, but they like to treat themselves and we see them dragging their parents in too. We also get single parents who have their kids for the weekend - it's somewhere to go where they can spend time and it's affordable."
Perhaps the biggest appeal of desserts is the margins. "When you go into food to go, you need to make a decision - to go value and sell in volume, or go premium," says Mo. The dessert bar is currently bringing in £3,000 and rising and the margins are about 70%.
Justin is also making a tidy profit. "We're doing about £3,500 a week on hot food and desserts. It's not massive figures, but it's the percentage that you're getting out of that final sale. Margins are 60-70%."
The vast array of toppings available gives consumers the opportunity to make bespoke desserts and Justin believes this versatility, combined with the ease of online shopping, means that when customers order desserts through the store's app, they spend even more.
"When we do them online, it starts off at £3 and by the time they've put all the extras on, it's nearly a fiver."
Southampton-based Dave Hiscutt is in the process of setting up a dessert counter at Londis Weymouth after he too was inspired by Mo's offer. He says the decision to lead on desserts was swung by the strong margins. "The whole piece is to raise margins in-store," he says. "We've had another set of wage increases since last year, so we need to find an extra £43,000."
He had already seen the potential of desserts to a degree with an ice cream parlour, which served customers directly on the high street via a serving hatch. This summer he has brought the offer in-store with the installation of a Kelly's serve-over counter. "With soft scoop you're looking at 75% margin easily. It's a completely different market, much more food service than retail," he says. "Bringing it in-store will help increase margin, add theatre and bring a point of difference."
He is still waiting for the units from which to make crepes to be installed in order to complete the dessert counter, but in the meantime he has a F'real milkshake machine (see previous page) and a serve-over cake counter, which commands a strong margin. "We have two serve-over units – one with ambient cakes, donuts, salted caramel tarts and yum yums. And then a smaller one will have fresh cream cakes from a local baker and we'll fill them with whipped cream. It puts a different spin on the dessert bar. The cakes offer 50-60% margins and we get £100 a day out of it."
He claims that the serve-over element is key to sales growth. "We found at the Abbotsbury Road store that cakes in a self-serve fixture didn't give us particularly great sales, but by displaying them nicely in a cabinet and having staff put them in a bag means we're now doing £100 a day on 50-60% margins. The consumer trusts it more in a cabinet."
The cake counter is 1.2m long and the chilled cabinet is 0.6m, but when the dessert counter is completed it will be a 4m run. However, Dave claims that retailers with less space available can still make desserts work. "That's us going big and bold on it, but you can take bits of the concept."
Mo agrees that a more tentative approach can also work. "Our dessert bar takes up 3m by 6m. It was a £40,000 investment. I try not to tell everyone that, but you don't need to spend that much. That's because we wanted to create a franchise model. If you're starting off, it'll only cost around £2,500 for an ice cream and milkshake offering. Take a small risk and, if it works, then take a bigger risk."
Even if you don't have room for a serve-over counter, it is still possible to profit from desserts. One store that has recently branched out on a smaller scale is Spar Hillcroft. "I thought it would be a good idea as we're in a rural area," says manager Gaynor Grist. "We don't have ice cream vans out here, so I thought we'd jump on the bandwagon.
"We have a double milkshake machine with strawberry and chocolate and a single vanilla ice cream machine with strawberry, raspberry, caramel and bubblegum sauces and chocolate, mixed and blue sprinkles."
Margins are equally as impressive as for the counters. "It offers splendid margins of 60%," she says. "Obviously, you have to take in your waste. The machines have to be cleaned and sterilized twice a week so anything left in them is wasted, but we still make a decent margin and the feedback we've had is that the quality is excellent."
Dave has every intention of making his dessert counter a year-round proposition. "The purpose of the dessert bar concept is to have it running all year," he says. "The idea is to use Uber Eats and tap into that as well."
He concludes: "When I was younger I was going out drinking every weekend, now young people go the gym and treat themselves to a dessert. It's about instant indulgence – if people are going to spend extra money, they want something really nice."
Low-maintenance solution offers an entry point into the dessert market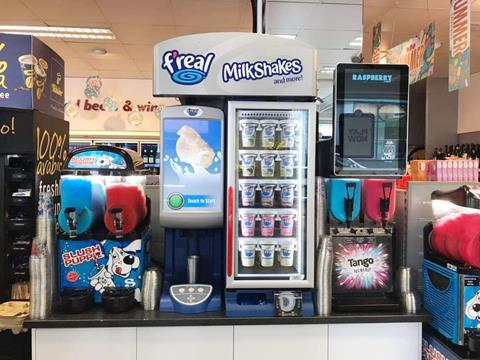 Demand for desserts is only going to increase, according to Rich Products, which owns self-serve milkshake brand F'real.
"The dessert trend is definitely in growth - Shakeaway shops and gelato shops are popping up everywhere," says Emma Wood, head of F'real EME at Rich Products.
"I think so many people are healthy so often that when they want a treat, they want it to be worth it and great tasting, which is why you have polar ends of the scale." Retailers who don't have room for a full dessert counter may want to consider a F'real unit, which comprises a milkshake blender, plus a freezer cabinet with pre-filled cups in a range of flavours. Measuring just over 0.8m wide and under 1.5m high, the units take up relatively little space and, according to Wood, they certainly earn their keep. "F'real is a destination product. What we've found is that one of our biggest convenience retailers makes more from F'real than from his entire frozen range."
Another retailer reaping the benefits of offering premium milkshake is Dave Hiscutt, who manages Londis Weymouth in Southampton. "We have a custom-built unit for F'Real, Slush Puppy and Tango Ice Blast," says Dave. "From the store's point of view, we don't have to do anything to look after the F'real unit because it self-cleans. It's a good self-service option with strong margins."