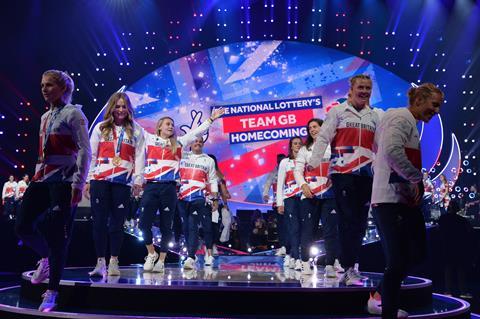 In-store sales continue to drive National Lottery growth as Camelot announces its highest-ever first-half ticket sales.
It reported National Lottery sales of £3,961.4m for the first six months of the 2021/22 financial year (1 April to 25 September 2021), an increase of £107.3m (+2.7%) on last year.
This growth was driven by a strong draw-based games performance – particularly on Lotto, which is now in its third successive year of growth. This performance was further boosted by the National Lottery brand connection to the Tokyo 2020 Olympic and Paralympic Games.
The majority of the first-half National Lottery sales increase was driven by growing sales of draw-based games to £2,228.1m – up £78.7m (+3.6%). Sales of National Lottery Scratchcards and online Instant Win Games grew over the period by £28.6m (+1.6%) to £1,733.3m. Camelot reported that with these sales being largely incremental to draw-based games, a strong retail recovery as Covid-19 restrictions were lifted meant that in-store Scratchcard sales were up +6.7% year-on-year while sales of online Instant Win Games were down -8.8% – although Scratchcard sales were down on pre-pandemic levels.
Retail remains the largest National Lottery sales channel, with in-store sales growing to £2,337.5m, up £102.7m (+4.5%) and as a result, first-half retailer commission increased to £133.0m, up £6.5m (+5.1%) and the equivalent of around £3,000 per store. Camelot said its in-store National Lottery standards programme for independent retailers has "continued to prove enormously successful", with £288,000 in cash rewards awarded to independent shopkeepers in the first half of the year.
The growth of digital sales slowed down compared to the same period in 2020. Camelot reported record online sales of £1,623.9m in the first half – an increase of £4.6m (+0.2%) compared to last year's half-year uplift of +39.1% resulting from significant Covid-19 lockdown impact. As part of this, mobile sales grew by £21.3 million (+1.8%) to an all-time high of £1,150.0m, reflecting the wider, ever-increasing shift to mobile shopping.
This growth was also accompanied by over 795,000 new online registrations – backing up the wider trend that, as the UK comes through the pandemic and shopping habits adapt, people are continuing to shop interchangeably between online and in retail depending on day-to-day convenience, meaning that online National Lottery sales are complementary to in-store sales.
The amount generated for Good Causes from ticket sales grew by +6.5% driven by strong draw games growth, while unclaimed prizes – which are handed over to Good Causes – were down -59.1% year-on-year. As a result, a total of £884.5m was generated for Good Causes during the period – up from £863.7m last year (+2.4%). Returns to Good Causes since The National Lottery's launch in 1994 have now exceeded £45 billion.
Camelot CEO Nigel Railton said: "With National Lottery sales up across the board and very high levels of public participation, we've once again proved that our strategy of offering great consumer choice in a safe and convenient way continues to deliver vital contributions to Good Causes across the UK."