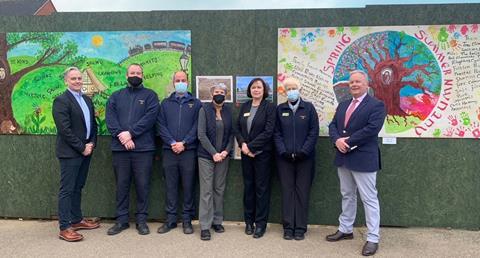 After Budgens of Holt was destroyed by a fire in the summer of 2020, the construction site for the new store has been brightened up with murals painted by local artists and schoolchildren.
Jess Read, from CT Baker Group who owns the store, came up with the idea to liven up the site.
She told ConvenienceStore.co.uk: "I think knowing that the build was going to take a good year, and the circumstances of the build, we just wanted to bring some life to the site again whilst getting the community involved. The fire was such a big thing in the town and it's just something to brighten up a dull event and a dull area and reignite the community spirit after the fire and the pandemic as well.
"Normally with projects like this you'll see competitions being held, but we wanted everyone to be involved, not to just pick one group, so because we're a fairly small town I sent an invite to all the various groups that I thought would be interested. And there's plenty of space so I just thought why not have all of them, and that's nice to have the contrast between them and is also a truer reflection of the community and the town."
The artists were given the theme "What makes Holt special to you?" and Jess said this was chosen to have multiple interpretations, some of scenery and key landmarks, and others more abstract and heartfelt.
Added Jess: "Everyone was so excited to be involved and get stuck in, they came down for the unveiling on the 9th February and had their pictures taken by the local press. We've still got three more that are being varnished and will be put up shortly, but it's looking really good."
Carl Milton, managing director of the CT Baker Group said: "We were overwhelmed with the response the art project received and we're so grateful to everyone who donated their time to make it a reality. The artists have used a plethora of colour and creativity to capture the idyllic scenery and iconic landmarks of Holt, which promotes our town in such a positive way."
Nick Baker, senior family director, attended the unveiling. He commented: "The murals show a clear sense of community spirit found in our town. The local community supported our team members and nearby residents on the night of the fire, and these artistic creations sum up the continuation of this spirit beautifully. We would like to thank the artists, and also Havercroft Construction Ltd for their donation of materials towards the project."
The art murals will be on display throughout the duration of the rebuild, with a completion date of Winter 2022.
Jess said there are plans to make the murals a permanent feature of the new store: "It has been discussed that we might be able to display them at the new store, which would be really nice. If we maybe had a garden space that had a back wall we could put them just so they're there for good."