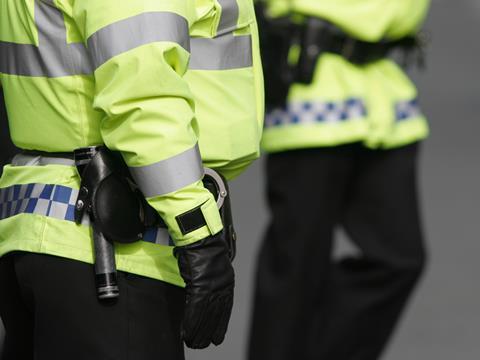 The retail sector has criticised the governement for failing to introduce tougher sentences for those who commit crimes against retail staff.
Members of the House of Lords had suggested amendments to the Police, Crime, Sentencing and Courts Bill that would have resulted in harsher sentences for those who commit crimes against retail staff but were shot down.
The Bill is currently at the Committee Stage in the House of Lords ahead of the Report Stage and 3rd Reading. Another debate is scheduled for later this month.
Speaking at the debate, Lord Croaker said retail staff need to be supported and feel safe in their jobs. "Is it not now time for us, as legislators, to respect that and act to create an offence or do something that actually delivers for them and prevents some of the unbelievable abuse that they receive? Let us remember as well that sometimes, of course, shop workers are targeted simply for enforcing the laws that we pass, whether it be laws on age-restricted products, or indeed, during the pandemic, laws with respect to wearing masks, and so on."
Baroness Neville-Rolfe also proposed an amendment to increase the maximum sentence available to the courts in cases of assault, battery, threatening or abusive behaviour, or intentional harassment, from six months to two years which would apply to any person providing a retail service to the public.
However these proposed amendments were later withdrawn.
On this, Minister Baroness Williams of Trafford said: "Obviously, a wide range of offences already exist covering assaults on any worker, including retail workers, and they include offences such as common assaults."
In July, MPs voted down proposals to add a new, separate offence for assaulting, threatening or abusing a retail worker and to introduces an aggravated offence with an increased imprisonment term of up to 12 months to the Bill.
Association of Convenience Stores chief executive James Lowman said: "We are extremely disappointed that the Government has once again failed to take urgent action to protect colleagues working in our sector. These amendments would've introduced a new specific offence for attacks on shopworkers in line with recently passed legislation in Scotland and provided our colleagues with the additional protection that they so desperately need. Violent and abusive incidents can be traumatic for the individuals, often with significant emotional and physical implications and shopworkers should be provided with the same level of protection across the UK.
"Violence and abuse towards staff is a top concern for retailers and we will continue to call for the Government to introduce tougher penalties for attacks on shopworkers to send the clear message that these incident are unacceptable and should not be tolerated."
USDAW general secretary Paddy Lillis welcomed the Lords support. "We are grateful to Peers from across the House of Lords for their supportive comments last night. While we are still disappointed that the Government has not committed to a simple stand-alone offence for assaulting a retail worker, we remain hopeful that their 'active consideration' will eventually lead to the right result for our members.
"We need a new offence to encourage prosecutions and provide the deterrent effect that retail staff are desperately looking for. Retail employers, leading retail bodies, the Home Affairs Select Committee and the shopworkers' trade union are jointly calling for legislation; it is time for the Government to act.
"In Scotland, MSPs voted through a new ground-breaking law to give shopworkers the protection they deserve, which came into force in August. We are looking for the Government and the House of Lords to similarly support key workers across the retail sector, who regrettably all too often suffer violence and abuse."