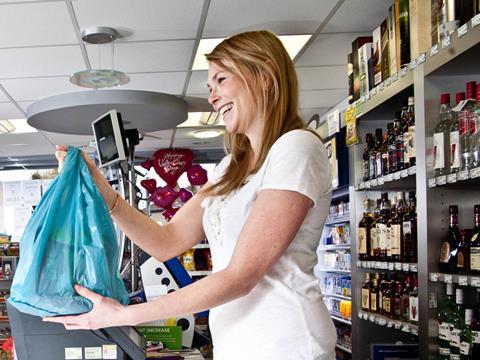 The Association of Convenience Stores (ACS) has backed the government's proposals to extend the plastic bag charge in England to all retailers with fewer than 250 employees, as long as there are no additional reporting requirements for small businesses.
The government is currently consulting on the extension of the plastic bag charge in England, after a 5p charge for plastic bags was introduced for large businesses in 2015.
As part of the consultation, the government is also considering whether to increase the charge for all retailers from 5p to 10p.
In its submission to the consultation, the ACS highlights findings from its Voice of Local Shops survey which found that nearly three-quarters (71%) of retailers in England are in favour of extending the plastic bag charge, while almost half (46%) have already introduced a voluntary charge.
ACS chief executive, James Lowman, said: "We have been calling for the extension of the plastic bag charge to all small businesses for several years, so we are pleased that the government has listened to our calls and is taking action to further reduce plastic waste.
"Charging for plastic bags is a popular measure with convenience stores, as it not only reduces the use of single use bags but also allows those retailers to raise more money for local and environmental good causes. If the government sees fit to increase the charge from 5p to 10p as part of this consultation, we will work with both large and small retailers to ensure that they are prepared for the change.
"Currently, the vast majority of small businesses who charge voluntarily donate the proceeds to good causes, so at either 5p or 10p, any extension of the charge to small businesses must not come with the unnecessary additional burden of reporting requirements."
The ACS has produced an animation for retailers explaining the benefits of charging for plastic bags, which is available here.