Inspiring speakers, on-trend exhibitors and the latest innovation in products – last month's National Convenience Show had it all
Retailers from far and wide gathered in Birmingham to meet innovative exhibitors and hear industry speakers discuss the topics of the day at NCS last month.

Retailers were unanimous in making a case for food to go. Paul Stone owns seven stores in Manchester and has a successful food-to-go model in each. He said: "50% of our store space is dedicated to the 'feed me now mission', because it is such an important one for us. Some 40% of our customers look for feed me now."

Avtar 'Sid' Sidhu of Sukhi's Simply Fresh store and Post Office in Kenilworth, Warwickshire, also encouraged retailers to make space for food to go. "It is an area of growth, but it keeps changing and it's even more important now for retailers to keep moving or risk losing out."

Paul and Sid both agreed that it is important that retailers keep up with consumer trends to make their offer interesting. Sid said: "Customers are becoming more health conscious or adopting specific diets as a lifestyle choice, so we have to make sure that we can give them those options."

Paul emphasised the importance of perseverance when it comes to food to go. "There are challenges with the amount of waste to begin with - the labour costs of having someone or a team of staff working on a dedicated area in the store have an impact, too, but sometimes things do take time."

Baz Jethwa described his thriving food-to-go offer at his latest store, a Spar in Bolton, which opened in February and joins his two other Costcutter stores in Bolton. He said: "Food to go is massive for us, 14% of our sales are from food to go and 1,000sq ft of the 3,000sq ft store is dedicated to it.

"I first gave food to go a try almost four years ago with a Costa Coffee machine and pastries, and since then we have gone mad on it. We now have serve-over counters for both hot and cold food, we make pizzas from scratch, 2,000 hot pastries a week and have a Subway-style sandwich fixture."

Holly Franklin, client manager at HIM, warned of the importance of keeping on trend to stay ahead of the competition. She said: "Growth in food to go has slowed, and while it remains a big opportunity for retailers it is also a sector that has seen an increase in competition. This means that retailers need to stand out from the crowd and appeal to a wide range of customers. It is key to have healthy options, and to give customers a choice - 42% of customers say that they want to be inspired during their meal times."

Charles Whitehead from HIM also raised the issue of adapting to changing shopping missions: "We know convenience shoppers are time poor and want to shop little and often and to satisfy specific missions. Food to go is a great example of this and that's why it is a growth area. If retailers can better understand their customers and keep up with how communicating messages to customers is changing with the rise of social media, then they can really add value to their business."

Jai Singh, owner of MJ's Go Local Extra, Sheffield, agreed. He said: "We have nine members of staff and we make sure we communicate with our customers all the time, get to know them, find out who they are, who their kids are and what they like about the store and, most importantly, we ask them if they found everything that they were looking for. This is a great way to find out if there is something we aren't stocking that there is a demand for, such as gluten-free."

When it comes to creating relationships with customers, retailer Dean Holborn, owner of Holborn's Stores in Surrey, told an audience how strong community credentials benefitted his business. "We run a huge firework night event each year and it raises about £12,000 for local causes. It is time consuming and challenging, but it is something that people know us for now," explained Dean.

Josh Clifton, account manager at HIM, reinforced the importance of a good community rep. "Customers spend 50p extra per trip in stores that they feel are community stores and they will come three times a week if they are loyal compared with not loyal, so it gives convenience stores a real edge," he asserted.

Dean pointed out that another way to build a local connection is by stocking local produce. He added: "We increased sales as a result of stocking local lines; communities appreciate them and like the exclusivity of the range and it helps to create a real point of difference."

With natural products billed as an area with a lot of growth potential, a panel discussed which categories have the brightest futures in convenience.

Val Kirillovs, senior client manager at HIM, said: "Health is an ambiguous word because it means different things to different people. You have food with benefits, protein foods and drinks, low- or no-sugar products, products with added vitamins, functional foods and more. It is more about understanding customers and identifying the new trends quickly and acting on them."

Niall McGrath, joint-founder of Fulfil Nutrition, said: "It is difficult for retailers to know where to stock these new products. Sometimes it is about creating a new category altogether, multi-stocking them in confectionery, protein or even promotional bays to give them maximum exposure."

Help your store stand out

Mike Baker, Budgens brand director, explained how retailers can be part of a symbol group, but still have a bespoke offering. "It's important for a retailer to be able to choose local products to sit alongside the symbol's core range. Equally, buying into the symbol group's promotional package is very important."

Chaz Chahal, of The Forge Simply Fresh in Inkberrow, explained how he has the Simply Fresh range alongside his own selection of local products. "When creating the store I wanted to make sure it fitted in with the rural setting and had a farm shop rustic feel which would be inviting to the local community.

"It's important for us retailers to inspire our shoppers and build their expectations, and it's those high expectations that will keep bringing them back."

Sort your social media

Peter Doyle, founder of the Social Retail Group, explained how to garner the power of social media. "The key to engagement is to keep the conversation flowing rather than just liking or retweeting or answering. Make sure to ask for further feedback," he explained.

"If you are posting from a shop account or account used by several people then you can put your first name at the end to make it more personable."

Doyle advised using hashtags with caution, as it's important to ensure the tag can't be misread or misunderstood to mean something else. When using a hashtag that's already been created, look up the tag first to check how other people are using it.

He added that the most engaging tweets include pictures or videos, and those new to social media should "avoid politics, be professional, be upbeat and positive, and don't advertise too aggressively".
ACS Summit discussions
At the ACS Summit, co-located with the NCS, Scott Hartman (pictured), CEO of US c-store chain Rutter's, said the group was focusing on technology, foodservice and the shift from tobacco to vaping.
Touchscreen ordering kiosks, pay-at-the-pump touchscreens and a mobile app were all innovations designed to provide "convenience at the speed of life," he said.
Rutter's is expanding its food service offer and "making it easier to define what dinner is," Hartman said. The breakfast offer is served 24 hours a day and burgers are sold in wraps because "people think wraps are healthy".
Nisa CEO Nick Read outlined the challenges facing the UK industry including competition, price inflation and regulatory changes. Mission-based shopping and food to go were key opportunities to overcome the challenges. "Think about millennials and baby boomers, technology, and don't be afraid to invest," he advised delegates.
Tracey Clements, Tesco md convenience and One Stop CEO, said she had overseen a reduction in SKUs in Tesco Express stores to simplify the offer. It is planning to open 25 Express stores this year in urban areas with high footfall, she added.
Great New Idea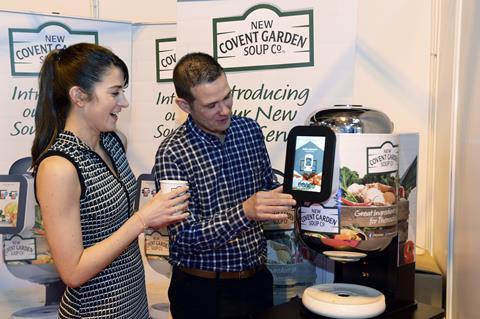 This high-tech soup dispenser devised by New Covent Garden Soup Co and RH Hall was voted best new idea at the show.
Controlled by a touch-screen, the server delivers automatic portion control and can hold soup for up to 12 hours without spoilage. Quality and service is maintained through telemetric monitoring, and the system is self-cleaning.
A new range of New Covent Garden soups supplied ambient in pouches has been devised for use with the system.