Vaping brand MagicMist is giving retailers the opportunity to order £500 worth of stock of its two new e-cigarettes for no upfront payment.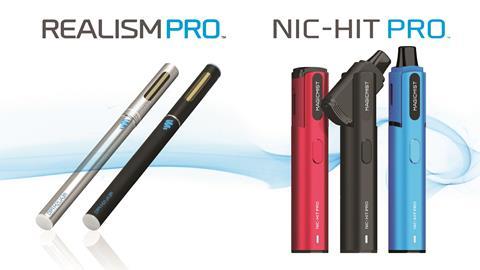 Delivered in free premium counter display units, MagicMist's sale or return offer allows convenience stores to order one or both of its new Realism Pro and Nic-Hit Pro devices and only pay for the stock that is sold at a later date.
The Realism Pro e-cig features new vapour technology and delivers an authentic smoking experience in a refillable, cigarette-size and fast-charge format (rrp £9.99 / kit, rrp £9.99 / five pack of refills).
The brand's second new launch: Nic-Hit Pro is a pod device with advanced technology that claims to offer more nicotine and vapour than other systems on the market.
The pod also features a spin-to-close design, fast-charge battery and comes in ten flavours, including: authentic cigarette; dark sweet; menthol; ice menthol; blackcurrant menthol; mango ice; strawberry lemonade; raspberry sherbert; juicy blackcurrant and silky vanilla (rrp £19.99 / kit, rrp £8.99 / three pack of XL refills).
Featuring next-generation technology that "offers cigarette-realism and a maximum nicotine hit", both products are being supported by a £1m marketing campaign.
MagicMist says that the two devices can help retailers move sales from low-margin cigarettes to high-margin e-cigs and increase profits as a result, citing that 82% of the market still smokes and two-thirds of smokers have bought an e-cig but put it in the bin because previous devices have not been realistic enough (Action on Smoking Health, 2018 / ONS Adult Smoking Habits Report).
For more information on the MagicMist range and the brand's limited stock deal, call 03300 011 077.