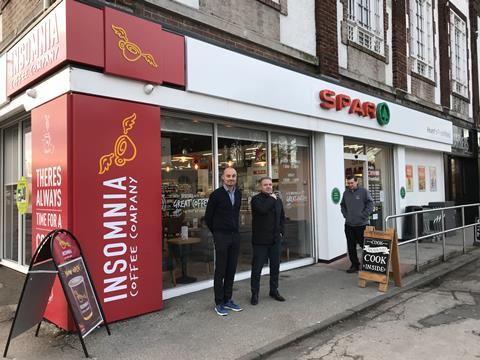 Hunt's Spar Freshfield in Formby, Merseyside, has taken on the café culture in a big way. The store has been owned by Lawrence Hunt & Co for five years, but the company decided to add an Insomnia café with seating at the end of 2017. The addition fits perfectly given the store's position as the hub of the community. The 2,350sq ft outlet has an average weekly turnover of £38,000 and this has increased by 10% year on year. Store manager Chris Greenwood, owner Kevin Hunt and area manager Paul Farrell show C-Store around.
Insomnia café
The Insomnia-branded café opened just before Christmas. It's a good fit as the store benefits from having a "sociable" gym upstairs which runs lots of classes, providing great potential for groups of people looking to sit down for a coffee and a catch-up before or after classes.
The café was making about £2,000 a week in January and that was before any marketing activity. The managers plan to do a full launch and start promotions soon, which will include coupon give-aways.
Kevin says he chose the Insomnia brand because it's up and coming; the brand has deals in the making with a big high street chain so he expects recognition to go through the roof.
Food on offer includes sandwiches, salads, paninis, cakes and biscuits.
Alcohol
The generous BWS section takes over the back corner of the store.
A Big Night In freezer within the alcohol section displays plenty of ice and ice cream.
All the alcohol that should be served chilled is displayed in chillers with doors.
Both value and premium lines are stocked to cater for the store's diverse demographic, which spans professional football players living nearby, golfers renting accommodation in the area during tournaments, and some housing estates.
On-trend ranges
The store offers a range to cater for all the biggest trends on the market.
A Dry January display at the front of store provided some interesting options for those cutting out alcohol during January.
A craft-style gin-and-tonic display in front of checkouts offers customers everything they need to make a perfect G&T. It includes premium Fever Tree tonic and garnishes. Kevin points out that it's not easy to do spirits displays without risking theft, but says it's worth the risk for this trendy category as it drives a lot of interest and extra basket spend.
With the gym located above it, the store benefits from a lot of customers on a snacking mission, particularly those looking for protein snacks.
Adding interest
With four Cook freezers, the store offers an excellent meal occasion selection which goes down particularly well with some of the more elderly residents.
In Christmas week alone, the Cook freezers made £14,000.
A wave stand for magazines was installed to make space for the new café area. The stand allows the store to stock more magazines in a smaller space, and it keeps the titles looking neat. Space was also created by cutting back the number of greetings cards stocked.
Local products feature in the sales mix, too, including Clayton Park Bakery cakes and Fletcher and Sons bread.