A Lawrence Hunt Spar store in Leyland, Lancashire, has reopened with a local butchery concession following a £300,000 revamp.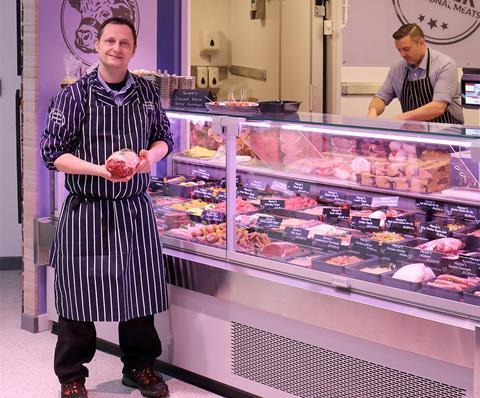 Spar Broadfield Drive (below) has partnered with local butcher Mark Mercer (pictured) as well as adding a Daily Deli hot food-to-go offer, a Frankie-branded coffee machine and extended product range following the revamp.
Owner Kevin Hunt said: "When we discussed refurbishing the store, I knew that I wanted to include a butchery concession and expand our current local offering. Mark is originally from Leyland and after having our initial conversation, we were both really excited at the thought of bringing a high class, quality butcher back to the town.
"Mark has built his reputation on delivering local quality meat and produce. He buys all of his free-range turkeys, lamb and the 28 day dry aged beef from local farms and believes in supporting Lancashire farmers.
"We are delighted to be able to offer such a range of local products in-store and are really looking forward to working with Mark and his team."
The Lawrence Hunt group operates 25 Spar stores across the North West.