Long Tail has launched its range of dark spirit mixers in 500ml glass bottles.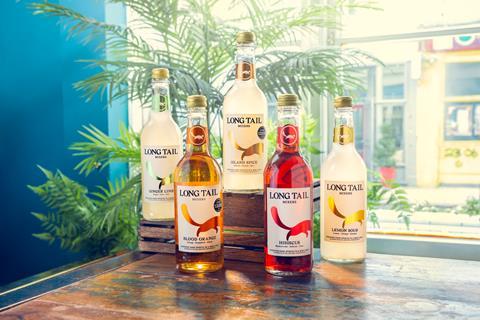 The brand was set up in 2018 to provide mixers for spirits such as rum, bourbon and tequila.
The new 500ml format is ideal for serving at home, and the range can also be served as an adult soft drink option, Long Tail said.
The Long Tail range includes Ginger Lime, Blood Orange, and Island Spice (Chinotto, gentian, spice), with Hibiscus (blackcurrant, hibiscus, clove) and Lemon Sour (lemon, orange, gentian) added to the portfolio in February 2020.
Long Tail co-founder Alex Jollivet said: "Dark spirits and the number of craft brands available is continuing to grow, illustrating that consumers are looking for more options that deliver in terms of flavour, and they want really simple ways to enjoy them and share them with friends at home.
"That's why we founded Long Tail – to create rounded flavours that highlight spirits without the need for years of cocktail knowledge. The reception that the brand has received since we launched in 2018 has been fantastic and so we're excited to launch our range in this new, larger format to ensure that it's even easier for consumers to enjoy at home and when entertaining friends."