Russian teenagers, second-home owners and Nicholas Cage are a typical sample of Spar Bruton's eclectic customer base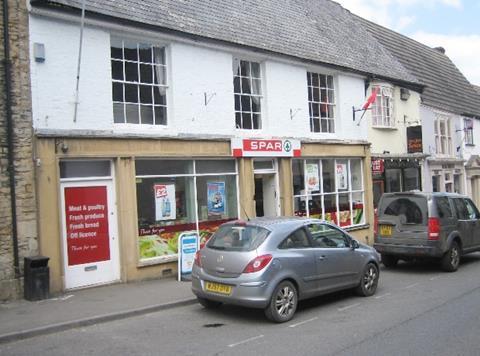 Russian teenagers, second-home owners and Hollywood actor Nicholas Cage are a typical sample of Spar Bruton's eclectic customer base - owing to the Somerset town's three well-known boarding schools and the surrounding area's clutch of celebrities and weekend Londoners. Not that all of owner Phil Butler's customers are affluent, which is why the store is strategically set up to appeal to the demands of all those who walk in the door - as well as providing a point of difference against the nearby Premier and Budgens stores, the main source of competition.

The family-run store had operated as an independent butcher for 30 years until Appleby Westward approached Phil five years ago about joining Spar. He agreed, and subsequently remodelled the store into a fully-fledged convenience store complete with off licence, food to go, bakery, and an extensive fruit and veg range. The results have been impressive. "Sales have grown 10-14% year on year since; everything across the store is growing," he says. The two partners complement each other well, with Appleby supplying the core lines and Phil sourcing the raft of local products which define the store.

The South West Spar distributor also provides the flexibility that Phil requires. "Appleby Westward has been brilliant to work with. They give me freedom to stock what I want; they don't tell me what to stock - they recommend something and if it doesn't work it doesn't matter," he says. "Our sales are growing because we have a better range, competitive prices and more availability than our rivals in town, and the fact we can choose what we stock and respond to the local market more easily."

A number of customers use the store for their main shop, especially the nearby second-home owners who are not inclined to go to the nearest supermarket - a Morrisons in Wincanton, about six miles away.
Local lines
Given its history, local meat is unsurprisingly key to the store's appeal. The butchery stocks a wide range of local offerings, including lamb raised just a mile up the road. A separate chiller stocks pre-packed local meat, as well as a couple of Spar's top-sellers - BBQ pulled pork and BBQ rack of ribs. The butchery adjoins the cheese chiller, which contains 60 variants from the South West. "We're in the middle of a cheese-making area. We're spoilt for choice when it comes to meat and cheese," Phil enthuses.

Fruit and veg comes mainly from the wholesale market in Bristol, although he also stocks bagged salad from a local grower and tops up during the week from Appleby, "meaning I can get seasonal veg straight away". Phil sells only local milk, most of which comes from less than a mile away in Bruton - as clearly communicated by its POS - while goat's milk comes from nearby Wookey. By a convenient twist of fate, even a couple of well-known brands are local: Bart spices from Bristol, while Dorset cereals is now a nationally-recognised name.
Store facts:
Spar Bruton
Size: 1,000sq ft
Opening: 8am-9pm every day
Staff: 14, including part-time young people
Extra: Butchery, food to go, cashback, MyHermes
Yet Phil is fiercely selective about which local suppliers he works with. "It's not about any local - it has to be good as only so many suppliers meet our high standards. We're always looking out for new products, but value for money is the key."

One supplier who does meet those standards is Bruton's Bean Shot Coffee. It sources coffee beans from all over the world and roasts them in town. The coffee has proven so successful that Phil spends £300 a week on the product and uses it for coffee to go.

Another high-selling local product is the Honey Garden Indian sauces, which also complement the butchery, Phil adds. "They're in Hampshire and arrive the day after ordering."

With the Premier, Budgens and another local store all majoring on alcohol, Phil had to find his own path within beers, wines and spirits. "We don't stock the likes of Echo Falls and Blossom Hill. The other three shops stock those kind of popular wines, all chasing the same trends," he says.

One point of difference within wine is the "really good" Spar range which sells consistently well. Phil uses a London wine merchant for more unusual bottles, and a number of English wines, too, from Essex, East Anglia and, naturally, up the road in Wraxall Vineyard . He also offers a wide range of local ales and ciders.
Teenage tastes
The store is also geared up for the teenage pupils from the nearby three boarding schools. The students, many of whom are international, gravitate towards the food-to-go area at the back of the store, where for £2 they can buy the section's top-selling hand-held pizza supplied by Cuisine de France. Baked in store, they come in margarita or ham flavours and are enticingly displayed alongside the pies and pasties. Adjacent to the hot food is the popular homemade sandwiches and filled baguettes, while the Bean Shot coffee tops off the food-to-go experience.

The youngsters also expect cutting-edge technology and fast service, so the store is equipped with contactless payment technology. Phil is also interested in introducing Apple Pay, which Spar is signed up to. "Contactless is great from a customer's point of view - all the school kids expect it," he says.

Phil was also a test store for Appleby's new epos system, which was rolled out earlier in the year. "The new epos is excellent, such an improvement on the last system," he says. "Ordering is easier - I use the 'suggest ordering', which is really accurate, uncanny actually. You can be selling out of a product as the deliveries are turning up - it's that accurate. The previous one used to over-order - this one seems to get in spot on, which helps cash flow, too."

He reports that the new system has also reduced wastage by about 10% and stock holding by 15%. "We were a pilot store and my feedback resulted in improvements - the ordering system has improved. Now it's just two clicks to do the job rather than an hour's work."

In terms of services, the store doesn't offer newspapers or the lottery as both are provided up the road, but the MyHermes parcel service does a roaring trade, with up to 30 parcels a day passing through. "It's money for nothing," he says.

Outside of the store Phil is fully engaged in the local community, where he is a governor at a local primary school, and the store regularly raises money through raffle prizes for local charities, including the Air Ambulance and Home Farm Trust. An in-store community notice board promotes school and other local events.

Since joining Spar five years ago, Phil has adopted a 'steady as she goes' approach, which has seen more shelving added, LED lighting introduced, and the range changed several times "to find the right fit" with its diverse customer base. With sales growing healthily and Phil confident of the store's identity and that of his shoppers, he is clearly on the right track.