Mayur Patel was used to his share of challenges, trading in Tesco Town. Then fire struck and he had to rebuild his business. Now Tesco could be his future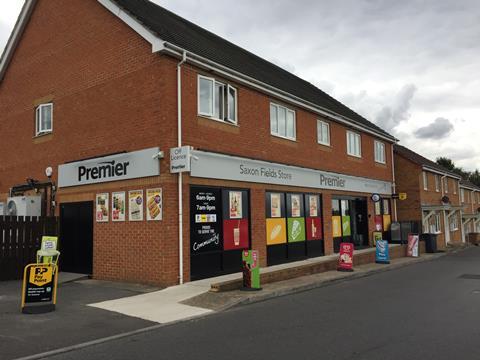 Mayur Patel, owner of Saxon Fields Store in Andover, Hampshire, first came to the attention of C-Store as an unaffiliated retailer standing tall in 'Tesco town'. In 2011 the Hampshire town was one of the most Tesco-dense in the country, based on population per store.

But that is only half the story. Saxon Fields Store could soon be supplied by Tesco as part of the multiple's proposed merger with Booker - and the irony is not lost on Mayur. "I was fighting Tesco, now I'll probably be supplied by them!" he laughs. "It was initially a shock, but as the dust settled I was fine with it," he adds. Given Mayur's experience over the past 18 months, it is no wonder he is unfazed by the future.

Just before midnight on 18 April 2016 Mayur and his wife Nilam received an unwelcome call from his alarm company. "They said something was wrong with the store. The fire brigade was already putting out the fire when we arrived. It took them four minutes to arrive and 20 minutes to put it out."
Store Facts
Saxon Fields Store
Size: 1,700sq ft
Opening hours: 6am-9pm Monday-Friday; 7am-9pm Sunday
Services: PayPoint, National Lottery, Health Lottery, Jack's Beans Coffee, Pass My Parcel
An electrical failure had caused a fire in Mayur's office and smothered the shop in smoke, resulting in the loss of crucial paperwork as well as stock. Fortunately, he could count on the invaluable support of his insurance company, Booker and other suppliers.
"We're with NFRN Mutual. They might be pricey, but they're worth it. Within three months we were repaid everything except business interruption, which is ongoing."
In the meantime Mayur and his family decided to join a symbol group. They looked at various options before settling with Premier. "We were trading with Booker before anyway, it's just we weren't branded as Premier. We also get along with them so well at the cash and carry. If you have a good relationship it pays off long term."

To highlight his point, Premier gave Mayur a stock loan to get the store up and running again. "That was the most fantastic news we had. We borrowed just over £15,500-worth of stock. We paid them back in under six weeks."

The shopfitters moved in on 3 July to begin the two-week refit, which included a minor extension into the stockroom. The insurance company covered about half of the £120,000 cost. Aside from the new Premier fascia, there are other subtle, but significant changes. At the shopfitters' recommendation, the gondolas are now parallel to the main walkway rather than perpendicular, creating a feeling of extra space. "If a person walks through the front door he needs to be able to see what's on the far wall. It brought people back into the store," Mayur says.

He also added chiller space which has boosted sales, especially in soft drinks and alcohol. His decision to think outside the box by putting beer cases behind the chiller doors has paid off handsomely. "We've become renowned for selling bigger boxes chilled. The supermarkets don't do it. I could've added some extra wines, but if five of these beer boxes move it's £50."

Premier alcohol promotions have also gone down a storm. When C-Store visited, Mayur was selling Bombay Sapphire gin - usually £30 - at £19.99 with a free bottle of tonic. "We sold 24 bottles in a month, as opposed to the usual one or two," he says. Similarly, Canti prosecco was being sold at £6.99, cheaper than at Tesco and a snip on the usual £11.80. "We've sold more than 70 bottles in a month, and we're still getting 10% margin on the offer."

A new freezer has been added for frozen desserts and he's brought in new customers with a range of gluten-free and dairy-free desserts. Likewise with Eastern European food. "We've become renowned for these products. One product we've got in today is cabbage leaves rolled up. A Bulgarian customer ordered it, and now there are other people buying it, too," he says.

Mayur is also seeking to expand his customer base with online marketing tool Zapper, as well as Premier's promotional material which he now delivers to 1,700 local households. "We always have the Booker promotions, but we always add our own as well so it gives people a choice," he says.

The Tesco-Booker merger, which Mayur is confident will go ahead, will also drive sales, he adds. "I think the advantage is it's going to open up the small independents a lot. There are people who are against it, but they need to wake up. It's all about getting the footfall. And you can drop out of Premier because you're independent."

Mayur's business has survived Tesco Town and the ravages of a fire. Whatever the future holds for Tesco and Booker, Mayur is looking ahead with optimism and with the spirit of an independent retailer.