The tobacco accessories category, currently worth more than £301m and growing1, continues to be one of the most profitable for convenience retailers. Republic Technologies offers some tips on how to capitalise on this burgeoning market .
Innovative new product development combined with consumers spending more time at home over the last 12 months, with fewer day-to-day restrictions on tobacco use, have led to the UK's tobacco accessories market continuing to drive strong performance within convenience stores.
Sales in the convenience channel are now worth more than £230m, making up more than three-quarters of the tracked total tobacco accessories market, and are growing by 3% year-on-year (YoY)1.
"Sales in the convenience channel are now worth more than £230m, more than three-quarters of the tracked total tobacco accessories market1"
Filters continue to be the category's strongest performer, valued at over £75m and growing more than three times faster than total accessories1. Within that, Republic Technologies UK's market-leading range of products is continuing to help retailers benefit from profit-boosting margins.
Since the start of the UK's first lockdown last year, many people have begun to shop more frequently at stores local to home, avoiding longer trips and large numbers of shoppers in supermarkets, and this is helping to maintain the strong performance of tobacco accessories in convenience stores.
Market growth has also been accelerated by the record number of consumers turning to roll-your-own (RYO) products from factory-made cigarettes, recognising the quality and affordability they deliver, as cost-conscious shoppers look for greater value for money in both tobacco and accessories.
Review the range
Retailers should review their range of tobacco accessories regularly and tailor it to their customers' needs. Utilising innovative NPD and a renewed focus on merchandising solutions enables convenience retailers to meet the needs of the growing number of RYO shoppers.
Following the change in legislation last May, a significant number of consumers have sought flavour alternatives to menthol cigarettes and a raft of tobacco-related NPD has hit the market to help retailers cater to this demand.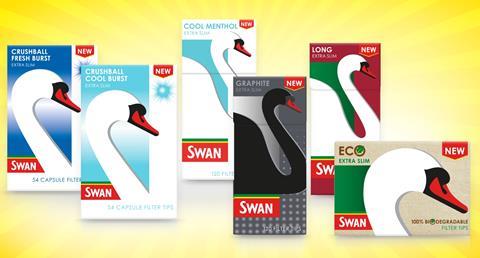 The iconic Swan brand is a beacon within the tobacco accessories category and is synonymous with quality and value for many RYO shoppers.
Swan Fresh Burst Crushball filter is already the best-performing menthol capsule filter in the market2 a little over a year since launch and along with the other three menthol SKUs from Swan – Swan Cool Burst Crushball, Swan Cool Menthol Extra Slim and Swan Menthol Extra Slim – has been enabling retailers to offer even more choice in flavour and format that deliver on quality, brand assurance and value for money.
Maximise tobacco accessory profits
The tobacco accessories market is currently worth more than £301m1, and the flavour card sub-category is set to deliver £18m in annual sales3, highlighting a further opportunity for retailers to maximise profits within the tobacco accessories category.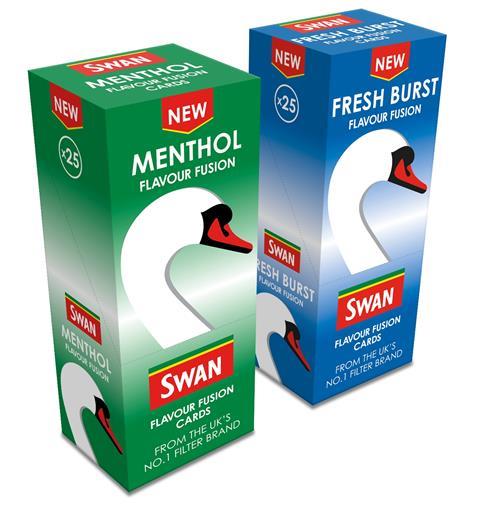 Swan's latest new product launch, Flavour Fusion Cards, enables consumers to create their own level of flavour in a packet of cigarettes or RYO from just 30 minutes and are available in two variants, Fresh Burst and Menthol. Each small, lightweight outer contains 25 individual cards and allows retailers to manage shelf space more effectively.
Meanwhile, environmental considerations continue to influence shoppers, with increasing demand across all categories for more natural products, reduced packaging and removal of single-use plastics.
This has led to a surge in demand for category-boosting products such as OCB Virgin Slim & Tips and OCB Organic Hemp Slim & Tips, which are unbleached papers and made using OCB natural gum, which is sustainably sourced from African Acacia trees.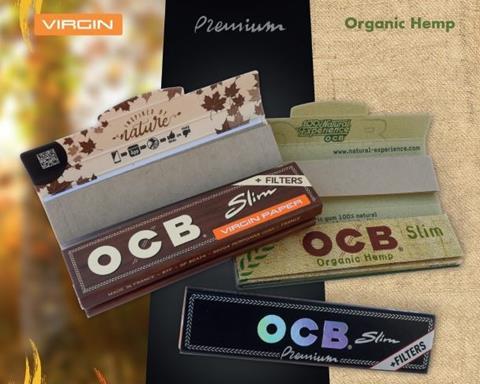 There has been increased interest across all premium paper & tips formats, with the sub-category now worth more than £14m and growing at 70% year-on-year1 in the convenience channel. Demand for OCB products is such that it is currently the fastest-growing paper brand in the market1.
All three of Republic Technologies OCB Slim & Tips variants, OCB Premium, OCB Virgin and OCB Organic Hemp are available in a slim vertical shelf ready box, enabling convenience retailers to maximise returns from their space more effectively.
Use counter-top displays
Republic Technologies is advising retailers to move products out of the gantry and utilise counter-top displays, where space and legislation allow. Driving visibility of category-boosting NPD is key to increasing shopper awareness and can be a successful tool towards encouraging impulse sales.
The Swan menthol counter-top display unit holds five packs of each Swan menthol variant and enables retailers to showcase the breadth and choice in menthol from the UK's No.1 filter brand1.
Republic Technologies is also rolling out an OCB counter display unit to support the UK's fastest growing paper brand1, which contains 10 booklets of each of the three OCB Slim & Tips products: OCB Virgin, OCB Premium and OCB Organic Hemp.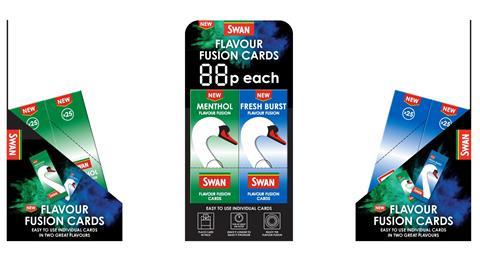 In addition, the company is launching a counter display unit for its new Swan Flavour Fusion Cards. The lightweight display unit holds four outers of the Flavour Fusion Cards, two of each variant, and is the perfect tool for retailers to grab shoppers' attention and boost sales of this latest innovative product launch.
These eye-catching display units not only enable convenience retailers to showcase trusted, market-leading tobacco accessories brands but they also present an opportunity for retailers to signpost the tobacco category and drive sales across the category.
For more information on creating the right tobacco accessories range for your store, contact here.
Source
1 IRI, 52 w/e 24.01.21
2 IRI, Value Sales, 9 months to 24 Jan 2021 (supermarkets, high street and convenience supermarkets)
3 IRI, Volume Sales, Jan-Nov 2020