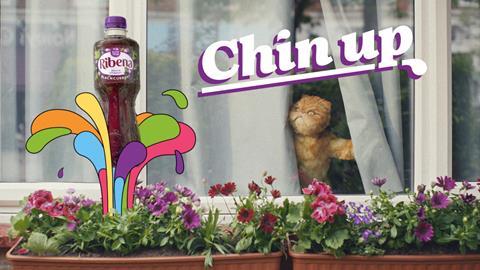 Ribena has unveiled a new brand positioning with a cheeky campaign to help people laugh through "life's little stumbles". The campaign is rooted in awkward moments, such as when a consumer returns a wave that was meant for someone else, and how, when shared with friends, these moments make everyone laugh. Ribena helps people keep their "chin up" through these moments and see the funny side. This is also a link to the physical action of taking a sip of Ribena, notes the brand. Activity includes a new TV commercial, online video, OOH, social media and in store marketing prompting shoppers to reach for the drink "when it's Ri-bena bit awkward".
The £7m campaign, which is set to run throughout the year, will help the brand to reach 91% of adults in the UK, at least seven times, according to Suntory Beverage & Food GB&I.
Head of Ribena Charlotte Flook says: "Ribena is an icon of the soft drinks category – in fact, we've been bringing our incredible taste to consumers in the UK for over eight decades now! With the brand in strong growth of +15% [Nielsen] Nielsen L52 weeks ending Feb, now is the perfect time to launch our new campaign. 'Chin Up' puts our brand's cheeky, irreverent personality at its heart by encouraging the nation to reach for a Ribena to help them laugh through life's awkward little stumbles.
"This new positioning will drive reappraisal of the drink to help retailers to grow their sales of the brand in store across our ever-popular ready-to-drink and squash ranges and give their category sales a lift."
She says retailers should ensure their chillers and soft drink aisles are well stocked across the brand's core range to take advantage of the buzz created by this engaging new campaign, helping shoppers to easily pick up their favourite drink. They can also display the unique campaign point-of-sale materials to bring 'Chin Up' to life in store.