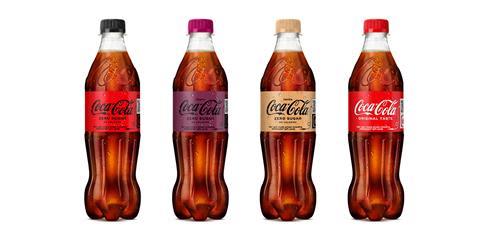 Coca-Cola Europacific Partners (CCEP) has announced a new on-pack promotion for Coca-Cola Zero Sugar and Coca-Cola Original Taste, tapping into young adults' passion for music to engage new and existing shoppers this summer.
From 1st June until 31st August, music lovers can scan QR codes on promotional packs of Coca-Cola for a chance to access instant wins and enter weekly prize draws – with a host of prizes up for grabs, including tickets to top festivals in Europe and across GB, Ticketmaster Gift Cards, music subscriptions and other music merchandise.
The promotion will run across on-the-go packs of Coca-Cola Zero Sugar and Coca-Cola Original Taste, including 250ml and 330ml cans and 500ml PET bottles.
The promo will run alongside a multi-million-pound music-led marketing campaign, which aligns to Coca-Cola's 'Real Magic' global brand platform unveiled last Autumn. The campaign includes the launch of the "Coke Studio" music platform featuring emerging artists and a new TV advert entitled The Conductor, which sees seven Coke Studio artists collaborate to record their own rendition of Queen's 'It's a Kind of Magic' to pay homage to the legendary rock band. The campaign will include TV advertising, paid social media & digital advertising, in-store activation and out-of-home advertising.
Convenience retailers can request POS materials via My.CCEP.com, to create theatre in-store.
Martin Attock, vice president of commercial development at Coca-Cola Europacific Partners GB, says: "Music experiences are a real passion point for young adults, and one that many have missed out on over the past few years. We're tapping into the fact that 90% of young adults Teens & Music Ethnographic Study, Octagon 2020 are looking to attend live music events and this on-pack promotion will give many that opportunity along with rewarding them with other music-themed prizes.
"This is a great opportunity for retailers to get behind a campaign that young adults are really passionate about, and to benefit from the momentum behind the Coca-Cola brand."
CCEP claims that Coca-Cola remains the number one soft drinks brand in GB, delivering £65.3m of value growth over the past 12 months (Nielsen). It states that Coca-Cola Zero Sugar is GB's fastest-growing major cola brand, up 14.3% (ibid), and adding more value to the colas sector than any other brand (+£44.8m) (ibid).