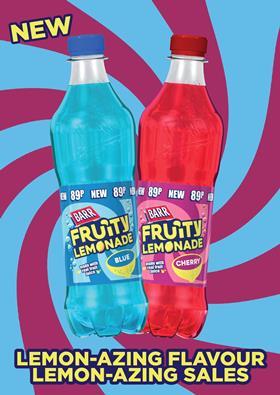 Barr Soft Drinks is set to add incremental summer sales to the soft drinks category with the launch of its latest innovation, Barr Fruity Lemonades.
The new sub-range, Barr Fruity Lemonades, has been created to meet the needs of Gen Z shoppers, who are the heaviest soft drinks consumers (JVA). Barr Fruity Lemonade Cherry and Fruity Lemonade Blue both come in 89p PMP formats and will be available from June this year, across all channels; impulse, convenience, cash and carry/wholesale.
"Barr is currently the fastest growing brand in OFC (IRI)," said Adrian Troy, Marketing Director at Barr Soft Drinks.
"With flavoured carbonates acting as the perfect entry point into the soft drinks category, new product innovation is key for retailers looking to drive incremental sales."
In consumer research with 12-24 year olds, both new flavours performed extremely well, claims Barr. Barr consumer research in 2022 showed that over 85% said they would buy it again and 77% of non-Barr drinkers confirmed intent to purchase.
"We are launching this exciting NPD alongside an exciting range of POS across all channels. Retailers should stock up on both flavours and make use of this eye-catching POS to grab shoppers' attention and encourage impulse sales throughout the summer months, a key sales period for soft drinks," adds Troy.