Rachel Hockmeyer, owner of Hockmeyer Motors (Spar) in Sleaford, Lincolnshire, is boosting seasonal sales with store-made gift hampers.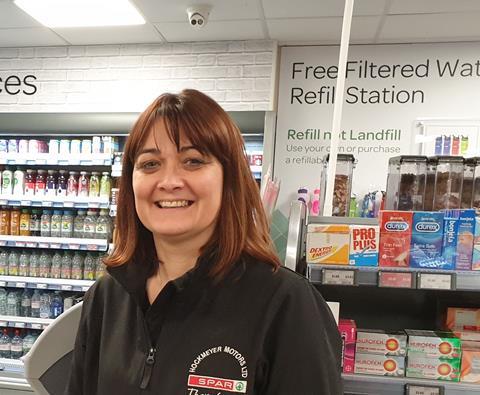 She says: "Being a garage, it's fuel, alcohol and cigarette sales that keep the tills ringing. But we also have our gifting hampers, which are especially popular around seasonal gifting times - Valentine's and Easter. They create a bit of a buzz around the community and we create them as people want them so customers can just pay for the packaging and then go round the shop and pick what they want to put in them, which works out really well. The pre-made ones vary from £10 to £30. We have one member of staff, Pauline, who makes them up in the mornings.
"Wilcox cakes and biscuits from the local bakery are another good seller. The slabs and half cakes sell well as we have a lot of customers who live on their own, or there's just two of them and a whole cake is too big."
Star performer
"The Jam Shed Red Wine sells really well here - so much so in fact that's out of stock! [it was on offer at £7 down from £7.95]."
Successful NPD
"We've only just got the clementine 'Refreshingly Light' Fever-Tree flavour in bottle format. Premium soft drinks are selling surprisingly well, even though they're quite expensive. All the Fever Tree lines are doing well, especially the light ones. They do well with ladies, I think it's to drink with gin."
The store is selling bottles of Refreshingly Light Fever-Tree at £1.80 for 500ml. Blended with fruit sugar, the clementine variant contains just 19kcals, which is 32% fewer than Fever-Tree Indian Tonic Water. The Refreshingly Light range is also available in 150ml cans and 200ml bottles. The entire range contains less than five grams of sugar per 100ml and no artificial sweeteners.