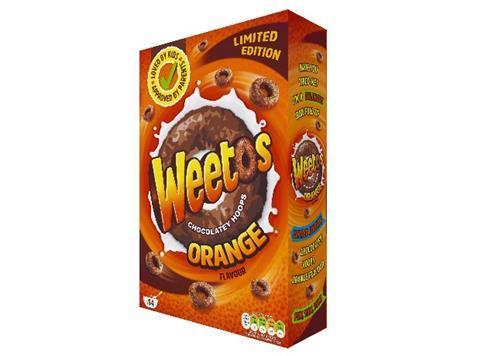 Weetos has launched new limited-edition Weetos Orange Chocolatey Hoops.
Available across convenience, and wholesale now, the new Weetos Orange Chocolatey Hoops cereal, which comes in 420g packs (rrp: £3.29) is HFSS compliant with no red traffic lights.
Alastair Porter, marketing controller at the Weetabix Food Company, said: "Choc orange flavours are everywhere you look except in tasty cereals, so we're excited to be bringing this on-trend taste to the category. We've taste-tested Weetos Orange Chocolatey Hoops among our target audience, so they're loved by kids and, since they're HFSS-compliant, they'll be approved by adults too!
"Weetos is one of the top 10 brands in the growing tasty category and we know it's a brand that performs especially strongly in the impulse channel. With convenience stores increasingly becoming hubs for innovative, new products, we're confident that Weetos Orange Chocolatey Hoops will stand-out on shelf and find its way into baskets across the country."