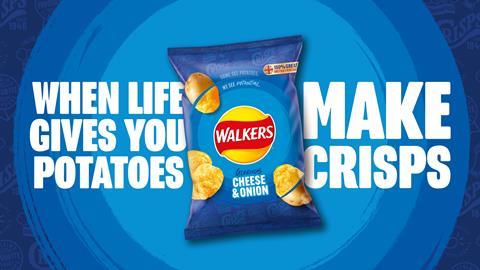 Walkers has introduced a new look across its core range of crisps.
The rebranding includes a splash of humour to tie in to its latest campaign: 'When life gives you potatoes, make crisps'.
Marketing director Walkers Snacks at PepsiCo Fernando Kahane said: "Unbeatable quality has always remained at the heart of everything we do at Walkers. We harvest only the finest potatoes from over 80 farms around Britain and this is something we want to share with consumers. We understand that provenance and brand responsibility is very important to them. The new packs will feature a QR code which will link through to the Walkers website, where people can find out more about how we care for our spuds and the planet.
"This fresh new look for Walkers forms part of our wider brand ambition to drive greater purpose. The launch of our new brand campaign is centred on inspiring the nation to turn everyday life adversities with a bite of levity and positivity."
Walkers is also joining up with Comic Relief in a long-term partnership, with extra help from Asim Chaudry and Jessica Knappett, to demonstrate the power that humour can have to positively influence mental wellbeing. To kick-start the collaboration, Walkers launched its '#WalkersTweetRelief' event, raising awareness of the power of humour and pledging to donate £1 to Comic Relief for every positive tweet sent using the hashtag. The campaign received over 250,000 engagements, and thousands of people helped raise money for Comic Relief. A new TVC will also follow alongside out of home advertising and a social media campaign.