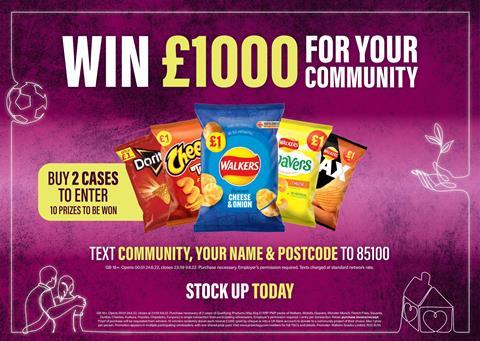 Walkers has launched a competition offering ten lucky retailers the opportunity to win £1,000 each to support their local neighbourhood.
To enter, retailers must simply purchase two cases of any £1 RRP price-marked-pack (PMP) range of qualifying products until Tuesday 9 August. The qualifying range includes 45g-82g £1 RRP PMP packs of Walkers, Wotsits, Quavers, Monster Munch, French Fries, Squares, Doritos, Cheetos, Kurkure, Frazzles, Chipsticks and Funyuns.
Mike Chapman, wholesale trading director at PepsiCo said: "Convenience stores are such an integral part of local communities, and retailers have gone to great lengths over the past few years in supporting their customers through unprecedented times. With this competition, we want to give back and acknowledge the great support that retailers have provided, especially in recent times.
"Shoppers are increasingly planning in advance more often when and where they shop, and therefore those retailers who choose to offer value for money through RRP PMPs can look to attract customers, help encourage repeat shopping trips, and increase their savoury snacking sales."