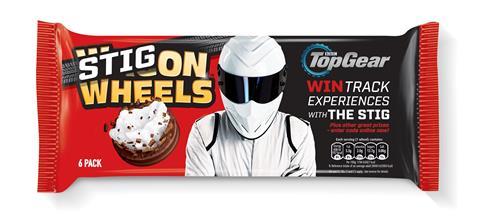 Biscuit brand Wagon Wheels has launched an on pack promotion giving consumers the chance to win a money can't buy track experience with Top Gear's infamous racing driver The Stig, at the Top Gear test track in Surrey.
The instant win promotion also involves a temporary name change for the iconic brand, from Wagon Wheels to Stig On Wheels, with the instantly recognisable The Stig featuring prominently on all Wagon Wheels SKUs.
The promotion runs from the beginning of March to the end of May, with 30 consumers winning an action-packed track day with The Stig and 90 runners-up receiving subscriptions to Top Gear magazine.
Burton's Biscuit Co's marketing director Kate Needham said the promotion was "tailor made for Wagon Wheels fans who have a legendary sense of fun and adventure".
"We're giving people a once in a lifetime opportunity to experience the thrill and adrenalin rush of speeding round the Top Gear track with the world's most famous, anonymous racing driver and it will be a truly memorable day for the winners. Featuring The Stig prominently on pack will also generate all-important shelf standout and attract shoppers' attention."
The promotion will be supported by a social media campaign on Top Gear's Facebook, Instagram and Twitter profiles which have a combined reach of over 27 million followers, boosted by activity on www.topgear.com.
Burton's will also be publicising the promotion on all its social media channels and via in-store activation.